FEATURE: Cambodia's 'Rubbish Man' educating kids in exchange for trash
Sitting in a building made from used tires, plastic bottles and old sneakers, Cambodian student Roeun Bunthon jots down notes during an English lesson at the "Rubbish School" where tuition is paid for with trash instead of cash.
In return, needy kids like Bunthon, a former street beggar, can take computer, mathematics and language classes — and learn the value of reducing waste in a notoriously polluted nation where recycling is nearly non-existent.
"I've stopped begging ... it's like I have another chance," said Bunthon, who paid for his enrollment with a bag of discarded bottle caps.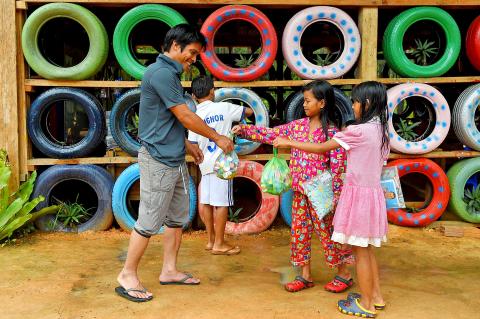 Ouk Vandey receives plastic bottle caps from students as a fee for studying at Coconut School at Kirirom National Park, Cambodia, on Monday last week.
Photo: AFP
Located in a lush national park, Coconut School is built almost entirely from recycled waste and is the brainchild of Ouk Vanday, nicknamed the "Rubbish Man," a former hotel manager who dreams of a trash-free Cambodia.
About 65 kids are enrolled at the school, where classroom walls are made of painted car tires and the entrance adorned with a mural of the Cambodian flag made entirely from colorful bottle caps.
Most of that garbage came from students in the form of school fees.
"I use rubbish to educate children by turning garbage into classrooms ... so the children will understand the value of using rubbish in a useful way," the 34-year-old said at the school, which opened a year and a half ago about 115km west of Phnom Penh.
He plans to expand classes in the poor, agricultural province of Kampong Speu to accommodate 200 kids, with a new kindergarten class featuring a wall made from plastic bottles set to open next year.
He is optimistic the young minds are environmental ambassadors in the making.
"We hope they'll become new activists in Cambodia, understanding the use, management and recycling of waste," Vanday said.
Vanday's inspiration came after traveling around Cambodia and seeing tourist sites clogged with garbage. Troubled by this, he set up a pilot project in Phnom Penh in 2013, before expanding it to a second location in the national park.
Vanday's vision for a trash-conscious Cambodia is ambitious in a Southeast Asian nation where plastic bags and bottles are tossed out without a second thought, many of which end up in garbage-choked cities or smothering once-idyllic beaches.
Cambodia accumulated 3.6 million tonnes of waste last year, according to the Cambodian Ministry of Environment.
A mere 11 percent of that gets recycled, while almost half of it is burned or thrown into rivers, causing widespread pollution, ministry spokesman Neth Pheaktra said.
The rest is trucked to ever-growing landfills and dump sites, where the piles of garbage emitting methane gas can lead to unexpected and dangerous fires, as well as add to climate change.
These grim scenes are what inspired Vanday to found Coconut School, which is supported by donations and volunteer teachers, for kids who would get little in the way of environmental education at regular state-run schools.
It is also a chance to help kids who would not be able to afford the after-school programs that have become commonplace for most youngsters across Cambodia.
Public education is free by law, but "supplemental" lessons for English or other extracurricular subjects cost extra, ranging from US$5 a class to hundreds of US dollars depending on the school and its location.
This is a steep investment in a nation where the average person earns less than US$1,400 per year.
For poorer families in remote areas, the children are sent to beg for money to increase their family income, making it difficult for them to justify paying for extra classes.
At his school, Vanday wishes to put an end to this practice.
It has already worked for some.
"My English teacher doesn't let me beg for money or gamble," 10-year-old former beggar Sun Sreydow said. "I'm glad. When I grow up, I want to be a doctor."
Comments will be moderated. Keep comments relevant to the article. Remarks containing abusive and obscene language, personal attacks of any kind or promotion will be removed and the user banned. Final decision will be at the discretion of the Taipei Times.