FEATURE: Chinese turn to Internet 'experts' for sensitive topics
Wondering if you have a sex addiction? Have a question about the US-China trade war's likely impact? Or about whether to buy a house? Chinese online question-and-answer mavens like Gu Zhongyi (顧中一) are there for you.
Gu, a nutritionist, is among hundreds of thousands of "experts" who sell their advice in thriving Chinese Internet forums where they serve as Web-based sources of advice.
Chinese often have nowhere else to turn — the government's controls on information, especially on sensitive topics like the trade war and sex, makes some information hard to come by and consulting professionals in person costs too much for many people.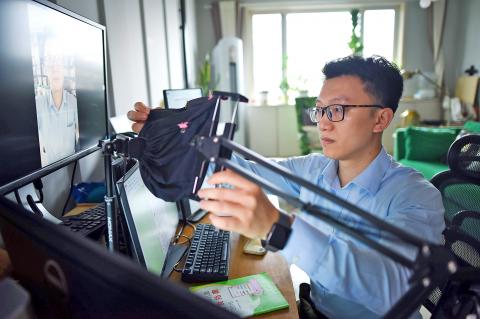 Gu Zhongyi sets up a teleprompter at his home in Beijing on Aug. 27.
Photo: AFP
About 10,000 questions per day were asked last year via "Wenda" (問答, "question and answer"), a function on dominant Chinese microblogging platform Sina Weibo where financial, health and professional experts — often self-appointed — earn money with each response.
Gu quit his nutritionist job at a top Beijing hospital last year to focus on Wenda, establishing himself as a go-to guy for masses of young mothers with questions on nutrition for their babies.
"I think it is more meaningful to do a job that can impact more people. Wenda is a win-win," said Gu, who supplements his online income by writing pay-for-access articles and books.
Many Wenda pundits are credentialed experts, but many more become authorities merely by drawing enough of a following.
They set a rate, typically between 100 and 200 yuan (US$14.58 and US$29.16) per question, answering those of their choosing.
More money comes in via "snooping," in which other users pay 1 yuan each to view answers to previously asked questions.
Fueled by China's ubiquitous use of mobile payments, snooping of hot topics can bring in tens of thousands of yuan per answer, which is split between the asker, the expert and Sina Weibo.
One of Wenda's more popular experts is "Queen C-Cup," whose identity and qualifications are unknown, but who has established herself as an oracle on sex, with more than 6 million followers.
Open discussion of sex is still frowned upon in China, and Queen C-Cup has complained of being harassed online.
However, Wenda grants a degree of anonymity to those asking questions, who seek Queen C-Cup's advice on everything from jazzing up one's sex life to grappling with domestic violence or the anguish of forced marriages.
Her fees go up to several hundred yuan and her answers have been heavily snooped.
Wenda is becoming an important part of China's knowledge economy, Beijing-based Internet research company Sootoo Institute said in a report.
The number of people willing to pay for knowledge on Wenda or use other forms of paid content or articles last year doubled to nearly 188 million people, it said.
The dragged-out US-China trade tussle has spurred a wave of questions, especially because China's government — ever wary of potential social instability — has largely stifled discussion of the dispute's impact.
"Is there any way China and the US may reconcile? How will we ordinary folks be affected?" one Wenda user asked, while countless others have sought advice like whether to stock up now on certain goods.
China's rising housing prices are another top subject that has minted countless "experts," including Wang Sicong (王思聰).
An investor and son of a top Chinese business tycoon, Wang was asked — for a fee of 10,000 yuan — whether young urban residents should use their parents' savings to buy homes.
The answer — renting might be a better choice, Wang said — has been snooped nearly 1 million times.
Comments will be moderated. Keep comments relevant to the article. Remarks containing abusive and obscene language, personal attacks of any kind or promotion will be removed and the user banned. Final decision will be at the discretion of the Taipei Times.