Guatemalan ex-dictator dies at home at age of 91
Former Guatemalan president Efrain Rios Montt, who ruled the country with an iron fist in the 1980s and was accused of genocide at the peak of its long civil war, on Sunday died at the age of 91.
One of his lawyers, Luis Rosales, told reporters that Rios Montt "died in his home, with the love of his family and a clear conscience."
However, protesting relatives of people who died under his rule splashed red paint on the sidewalk outside a former government palace in Guatemala City and on a national flag in a symbol of the blood they said he had shed, complaining that he was never punished.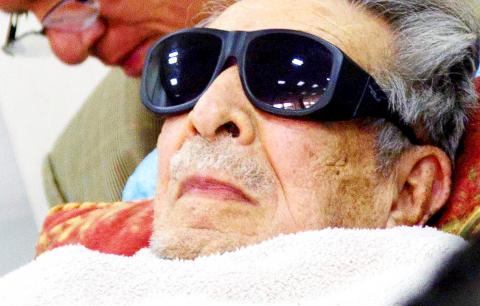 Former Guatemalan president Jose Efrain Rios Montt arrives on a gurney to court in Guatemala City, where he faced charges of genocide and crimes against humanity, on Jan. 5, 2015.
Photo: AP
Rios Montt was accused of ordering the murders of 1,771 indigenous Ixil-Maya people during his short reign from 1982 to 1983, which came at the height of a brutal 36-year civil war.
According to the UN, about 200,000 people died or were made to disappear during Guatemalan Civil War, which ended in 1996.
Rios Montt was accused of orchestrating an extermination policy against the indigenous population, which was perceived to be collaborating with leftwing guerrillas waging war against government forces.
Short in stature and vigorous until recent years, Rios Montt had a humble beginning, with little to suggest a rise to national power. He was born in Guatemala's remote Huehuetenango Province, near the border with Mexico.
He enlisted in the army as a teenager and rose through the ranks, receiving training courses at the US-run School of the Americas, where Latin American officers learned harsh tactics used in crack downs on dissidents.
Politically, Rios Montt came to the forefront in 1974 when he was put forward as a coalition presidential candidate.
Historians have said he won an overwhelming victory, but electoral fraud prevented him from taking office.
On March 23, 1982, he took power in a bloodless coup, deposing then-Guatemalan president Lucas Garcia.
During his 18-month rule, ruthless even by the standards of Latin American dictators, Rios Montt engaged in a "scorched earth" policy against dissidents, wiping out entire rural towns where leftists were suspected of living or having support.
He appointed "faceless judges" who mounted summary trials and ordered numerous alleged criminals — often leftist rebel sympathizers or militants — executed.
Rios Montt also used his office to preach to his people: Every Sunday night, dressed in a combat uniform, the dictator would take to the airwaves and talk about God, morality and politics.
He claimed in one such sermon that a "good Christian" lived their life "with a Bible and a machine gun."
As conflicts raged in nearby Nicaragua and El Salvador, then-US president Ronald Reagan in 1982 praised Rios Montt as "a man of great personal integrity and commitment."
Comments will be moderated. Keep comments relevant to the article. Remarks containing abusive and obscene language, personal attacks of any kind or promotion will be removed and the user banned. Final decision will be at the discretion of the Taipei Times.