Trump is an enemy of the rule of law, Chinese judge says
A judge in China's top court has labeled US President Donald Trump an enemy "of the rule of law" over his insults directed at a US judge who temporarily blocked the president's travel ban, adding that Trump had set a poor example as head of the world's leading democracy.
Chinese Supreme People's Court Judge He Fan's (何帆) blog post came after Trump on Saturday on Twitter called US District Judge James Robart a "so-called judge" whose "ridiculous" decision opened the country to potential terror attacks.
In his post, dated on Sunday, He wrote that under the US system's separation of powers, a president who is dealt a judicial defeat should bear the loss silently rather than lash out at the judge in question.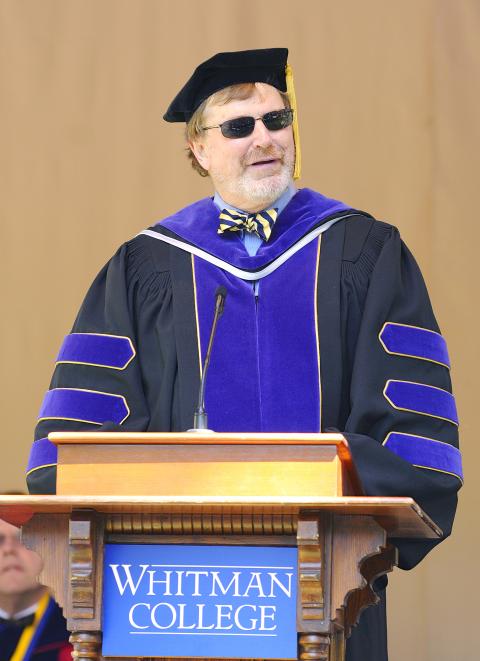 A 2009 photo provided by Whitman College shows US District Judge James Robart speaking at a commencement ceremony in Walla Walla, Washington.
Photo: Greg Lehman/Whitman College via AP
The widely reported controversy surrounding Trump's ban follows recent remarks by China's top judge that the concept of judicial independence was an "erroneous Western ideal" unsuited to China — seen as a demand for obedience from Chinese Communist Party (CCP) leaders.
Those comments have reignited a debate on the topic within China's legal community, which is in general tightly bound to uphold the party line.
He, an expert on the US justice system, did not voice his thoughts in that debate, although he frequently offers opinions on matters foreign and domestic.
He published a lengthy and widely read paean to former US Supreme Court justice Antonin Scalia after his death last year.
He said Trump had set a poor example and lost respect for having "led the way in insulting a judge, with the vice president and his political party swarming to his defense [and] in a country known as the most democratic and most respectful of the rule of law."
"The president who would curse a judge and the thug who would kill a judge are both public enemies of the rule of law," He wrote, referencing the recent murder of a retired judge in southern China.
"Who cares that you control the armed forces and have nuclear weapons at your disposal. Your dignity has been swept away and you are no different than a scoundrel," He wrote.
Trump had been considered by many in China as preferable to Democratic US presidential candidate Hillary Rodham Clinton, who was seen as taking a harder line toward Beijing. However, Trump has also raised concerns over his comments on Taiwan, trade and other issues seen as diverging from long-established US policy toward China.
Comments will be moderated. Keep comments relevant to the article. Remarks containing abusive and obscene language, personal attacks of any kind or promotion will be removed and the user banned. Final decision will be at the discretion of the Taipei Times.