Former Toronto mayor Rob Ford dies
Former Toronto mayor Rob Ford, who made international headlines when he was caught using crack cocaine while in office in Canada's largest city, died on Tuesday aged 46 after a battle with cancer.
The colorful and controversial Ford — elected in 2010 — earned worldwide notoriety in 2013 when he refused to resign after acknowledging that he had smoked crack during his chaotic tenure and admitted to struggling with a drinking problem.
Ford's family called him a "dedicated man of the people."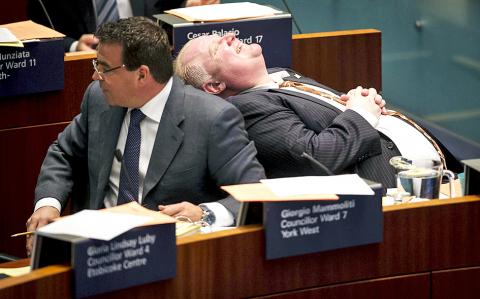 Then-Toronto mayor Rob Ford laughs during a council meeting at Toronto City Hall on Nov. 14, 2013.
PHOTO: REUTERS
"With heavy hearts and profound sadness, the Ford family announces the passing of their beloved son, brother, husband, and father, Councillor Rob Ford, earlier at the age of 46," said a statement from the family, requesting privacy to mourn.
Ford, an anti-tax populist, put Canada's usually staid politics on the global map when an alleged drug dealer tried to sell video footage of the mayor apparently smoking crack.
At first, the rotund Ford denied using the drug, but he later acknowledged smoking crack cocaine in a "drunken stupor," while saying he was not an addict.
Ford entered rehab soon after the sensational emergence of the footage, saying he had struggled to get a grip on his personal demons, while his behavior became increasingly erratic.
Despite hanging on in office, Toronto's city council had stripped Ford of most of his mayoral powers over his misconduct, while calls for his resignation dogged him.
Nevertheless, his public support remained relatively high.
He defiantly vowed to stand for re-election in 2014, but in the end he opted not to run so he could undergo chemotherapy and focus on his failing health.
Toronto Mayor John Tory, a moderate conservative, was elected in October 2014 to succeed Ford, bringing to an end a turbulent 18 months at Toronto City Hall.
Tory defeated Rob Ford's brother Doug at the polls.
"On behalf of the people of the city of Toronto, I offer my sincere condolences to his loved ones at this time," Tory said, adding that Toronto had been left "reeling" from the sudden news of Ford's death.
Ford was "a profoundly human guy whose presence in our city will be missed," Tory added in a statement.
Ford was first hospitalized in September 2014 after suffering abdominal pain for three months.
A battery of tests showed Ford had malignant liposarcoma, a rare and aggressive type of cancer which arises in soft tissues including fat, blood vessels, nerves and muscles.
In May last year, doctors removed a tumor from his abdomen and at the time doctors saw no other signs of tumors, but in October last year, Ford revealed the illness had returned and he would need further cancer treatment.
"I was feeling better than I ever have in my life, and now I'm straight back to square one," the former mayor said at the time. "I think this one is a little harder than the first one because we saw the light at the end of the tunnel."
The deeply polarizing Ford was on the receiving end of numerous death threats while in power and Canadian media outlets reported that he had been verbally abusive and scuffled with fellow addicts during his two months in rehab for alcohol and drug use in 2014.
Despite that, his supporters viewed him as a canny and committed politician, and tributes poured in as news of his death spread.
"Rob Ford fought cancer with courage and determination. My condolences and best wishes to the Ford family today," Candian Prime Minister Justin Trudeau tweeted.
Information on memorial services would be announced at a later date, Ford's family said, adding that the former mayor "spent his life serving the citizens of Toronto."
Comments will be moderated. Keep comments relevant to the article. Remarks containing abusive and obscene language, personal attacks of any kind or promotion will be removed and the user banned. Final decision will be at the discretion of the Taipei Times.