US sees Syria's al-Assad in control until March 2017
SAUDI MUDDLE: The Iran-Saudi rift has complicated negotiations over Syria. It is not clear how al-Assad would leave or what his post-presidential future would hold
US President Barack Obama's administration's best-case scenario for political transition in Syria does not foresee Syrian President Bashar al-Assad stepping down as the country's leader before March next year, outlasting Obama's presidency by at least two months, according to a document obtained by The Associated Press.
An internal timeline prepared for US officials dealing with the Syria crisis sets an unspecified date in March next year for al-Assad to "relinquish" his position as president and for his "inner circle" to depart.
That would be more than five years after Obama first called for al-Assad to leave.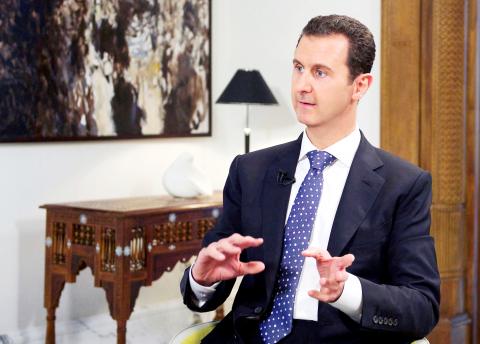 A photograph released by the official Syrian Arab News Agency (SANA) shows Syrian President Bashar al-Assad gesturing during an interview with the Spanish news agency EFE in Damascus on Dec. 11 last year.
Photo: SANA via AP
The time line is based on a broad UN-endorsed plan that was laid out at an international conference in Vienna in November last year.
Syria, according to that strategy, would hold elections for a new president and parliament in August next year. In the interim, it would be run by a transitional governing body.
Countless hurdles lie ahead for this latest blueprint for ending five years of conflict that has killed more than a quarter of a million people, created the worst refugee crisis in Europe since World War II and allowed the Islamic State group to carve out a would-be caliphate across parts of Iraq and Syria.
Not the least of those hurdles is the growing rift between Sunni-led Saudi Arabia and Shiite-ruled Iran, which back opposite sides in the Syria conflict and had to be lobbied heavily to agree to meet in Vienna to craft a way forward for the war-torn country.
Saudi Arabia executed a prominent Shiite cleric on Saturday last week and then severed diplomatic relations with Iran on Sunday after its embassy in Tehran was stormed by a mob protesting the death.
It is not yet clear what impact those developments might have on the Syria negotiations.
If Saudi-Iranian tensions can be overcome, if peace talks between the Syrian government and opposition go ahead later this month as planned and if they are successful, the biggest challenge to the US time line is still that no one else has yet agreed to its specifics, particularly those related to al-Assad's departure.
Al-Assad has steadfastly refused to step down while his nation's terrorist threat, as he sees it, persists. The time line offers no explanation for exactly how al-Assad would leave or what his post-presidential future might hold.
His chief backers, Russia and Iran, have resisted all efforts by outside powers to determine Syria's future leadership, insisting that is a decision for the Syrian people.
In addition, the Syrian opposition wants al-Assad out as soon as possible. The opposition, along with US allies like Saudi Arabia, Qatar and Turkey, could view the US concept as a betrayal.
The US is balancing numerous considerations as it seeks to quell Syria's violence and advance several strategic objectives. Its top priority now is rooting out the Islamic State from its headquarters in northern Syria.
Still, Obama and other US officials promised for years to end the al-Assad family's 45-year-grip on Syria, arguing that a leader who uses barrel bombs and poison gas on his own people has lost legitimacy. The timeline, however aspirational, shows how US diplomats and policymakers are determined to outline an exit plan for al-Assad and not let concerns over the Islamic State and other extremist groups allow him to cling to power indefinitely.
The document starts Syria's new political process next month. An 18-month transition period would be initiated, consistent with the plan endorsed by the UN Security Council last month.
Comments will be moderated. Keep comments relevant to the article. Remarks containing abusive and obscene language, personal attacks of any kind or promotion will be removed and the user banned. Final decision will be at the discretion of the Taipei Times.