Baga still a ghost town one year after massacre
DESERTED: Once a lively commercial hub of 200,000 residents, Baga has been reduced to a desolate town where no more than 1,000 people dare to set foot
One year after a massive attack ranked among the worst in Boko Haram's six-year insurgency, the residents of Baga in northeast Nigeria said their home is a ghost town. The militants razed the fishing hub on the shores of Lake Chad in a four-day assault beginning Jan. 3 last year, forcing thousands from their homes and killing hundreds of others.
Unlike other Boko Haram attacks, which often go virtually unnoticed outside Nigeria, the Baga massacre made headlines around the world after it was reported that 2,000 people lost their lives in the raid and Amnesty International released satellite images showing the ravaged town.
With its charred houses and shuttered businesses, it is hard to believe Baga used to be a lively trading center of 200,000 people, where merchants would travel to sell cattle, leather goods and trade fresh produce.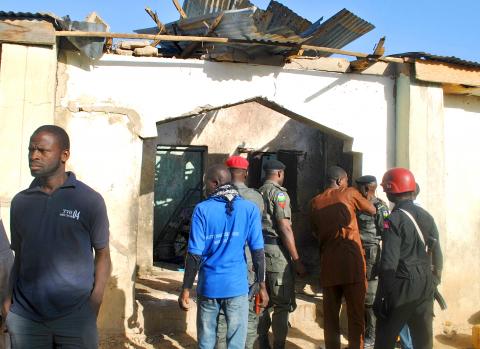 People gather at a damaged building following an attack by Boko Haram in Maiduguri, Nigeria, on Monday.
Photo: AP
"Baga is still deserted, we are all living in camps and homes of friends and relatives in Maiduguri because we are scared of returning home," said Muhammad Alhaji Bukar, a displaced Baga resident.
The Nigerian military reclaimed Baga in March and troops patrol its dusty streets today.
However, the town's enduring emptiness — under 1,000 people are living there now — highlights how difficult it is to get people back home and restore peace to the battered northeast region.
In June, destitute residents of Baga and surrounding villages started trickling back to fish, encouraged by military victories winning territory back from the militants. The fishermen would sell their catch of catfish and African bonytongue in the key northeast city of Maiduguri, the spiritual home of the insurgency and the restive capital of Borno state.
In the window of calm, about 5,000 residents returned to Baga.
However, the peace did not last long.
In July, Boko Haram ambushed a lorry carrying people returning home, killing eight Baga residents.
In the days that followed, the militants slit the throats of several fishermen and killed farmers who had returned to harvest their melons.
The Nigerian army and forces from neighboring countries have over the past year been able to flush Boko Haram out from captured towns, but is not able to stop the militants from regrouping in the surrounding villages and bush. Spurned not crushed, the militants had found cover near Baga in the little islands lined with tall grass that dot the freshwater lake.
As Bukar Kori, head of the Baga's traders union, put it: "We can't return to Baga yet, it is still not safe, especially with Boko Haram lurking on nearby islands."
Today, an estimated 700 people are living in Baga, with the majority of the town's former residents staying in Maiduguri.
Its population has almost doubled from 2 million since 2009, when Boko Haram embarked on its bloody quest to establish an independent Islamic state in Nigeria.
The extremist insurgency has forced over 2.5 million people — just over the population of Paris — living in the Lake Chad Basin to flee from their homes, according to a report issued last month by USAID, a US government humanitarian agency. While the Nigerian government insists that Boko Haram has been "largely" defeated going into this year, the militant group continues to wreak havoc by sending out suicide bombers, sometimes in droves.
Last Sunday in an attack lasting 48 hours, the militants invaded Maiduguri, unleashing "dozens" of suicide bombers and killing 22 people.
The Nigerian government has acknowledged the monumental task of getting displaced people like those in Baga back home, but has not yet given a concrete plan on how to tackle the issue.
"There is still a lot of work to be done in the area of security," President Muhammadu Buhari said in a New Year's statement. "This government will not consider the matter concluded until the terrorists have been completely routed and normalcy restored to all parts of the country."
Boko Haram's insurgency has killed 17,000 people in Nigeria, Africa's most populous nation, damaging millions of dollars of infrastructure at a time when the country is facing a cash crush as a result of the plunging price of oil.
Comments will be moderated. Keep comments relevant to the article. Remarks containing abusive and obscene language, personal attacks of any kind or promotion will be removed and the user banned. Final decision will be at the discretion of the Taipei Times.