China's president lauds UK for 'visionary' openness
WESTERN ENGAGEMENT: Xi Jinping's comments came ahead of a four-day visit to the UK, where he is expected to receive a much warmer welcome than he did in the US
Chinese President Xi Jinping (習近平) heaped praise on the UK for what he called a "visionary and strategic choice" to strengthen commercial ties with China, as he prepared for a state visit to the UK that is expected to be richer in pomp and considerably warmer in tone than his recent trip to the US.
The trip comes at a time of global anxiety about China's slowing growth.
Xi himself acknowledged "concerns about the Chinese economy," but sought to allay them in a written interview with Reuters.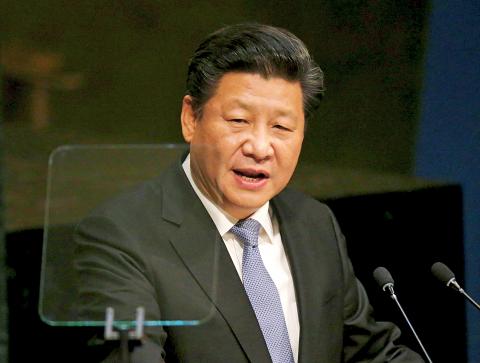 Chinese President Xi Jinping addresses attendees during the 70th session of the UN General Assembly at the UN's headquarters in New York City on Sept. 28.
Photo: Reuters
China itself is worried about the slowing of the broader global economy, Xi said, even while he expressed confidence that China would weather the current downturn as it reshapes its economy to be more resilient in the future.
That confidence will be on display when Xi arrives in London tonight to kick off a four-day visit that is expected to cement ties between the UK and China, including through a host of business deals.
"The UK has stated that it will be the Western country that is most open to China. This is a visionary and strategic choice that fully meets Britain's own long-term interest," Xi said in a written response to questions from reporters.
"China looks forward to engaging with the UK in a wider range, at a higher level and in greater depth," he wrote.
Xi's visit comes amid debate in the UK and many other Western countries over what is the best way to engage with a China that has grown more influential economically and diplomatically, but which maintains stances in areas from human rights to the South China Sea that are often at odds with those widely held in the West.
Such tensions were on display when Xi visited the US last month, with friction over issues from cybertheft to China's maritime disputes with its neighbors at the center of discussions.
Xi's visit to the UK, during which he and his wife, Peng Liyuan (彭麗媛), are to stay at Buckingham Palace as guests of Queen Elizabeth II, is expected to be much warmer, with Xi saying it could be the start of a "golden time" in bilateral relations.
British Chancellor of the Exchequer George Osborne set the tone with a preparatory visit to China last month, when he courted Chinese investment into the UK and won praise from Chinese state media for having the "etiquette" not to press human rights issues.
Still, Xi's visit, the first state visit by a Chinese president since 2005, is unlikely to be without potentially awkward moments. Newly installed UK opposition leader Jeremy Corbyn intends to bring up the issue of human rights when he meets Xi, his official spokesman has said.
Xi called on Britain and other countries to avoid what he characterized as bias against Chinese companies, as Beijing supports firms in fields from high-speed rail to nuclear technology in their efforts to compete for contracts overseas.
"Competition is necessary for a business to grow, and no one will give away a market to its rivals," Xi said in comments provided in English.
"We hope that such competition is benign and market-based. There should be no swing doors or glass doors which are placed as non-economic or non-market-based barriers," he said.
One deal expected to be inked during Xi's visit is a plan for two state-owned Chinese utilities to invest in a £16 billion (US$25 billion) nuclear power project being built by French utility EDF at Hinkley Point in southwest England.
EDF Energy chief executive Vincent de Rivaz has said Xi's visit is a "timely opportunity" to seal the deal.
China has ambitions to sell its own nuclear technology overseas, including in Western nations. While critics have said that Chinese government support, including cheap financing for companies in that and other sectors could amount to unfair competition, Xi defended China's approach.
Xi also underscored China's readiness to strengthen financial cooperation with London, which aims to be an important hub for yuan trading and offshore yuan business and is set to be the first location outside China and Hong Kong to host the issuance of Chinese central bank and finance ministry debt.
"When conditions are in place, China is ready to consider strengthening the connectivity of the financial markets of the two countries," he said.
His comments were prepared by Chinese government officials, but were reviewed and approved by Xi himself, the government said.
Xi acknowledged that the Chinese economy's slowing was a concern.
"As an economy closely linked to international markets, China cannot stay immune to the lackluster performance of the global economy. We do have concerns about the Chinese economy, and we are working hard to address them. We also worry about the sluggish world economy, which affects all countries, especially developing ones," he said.
Xi said the monetary easing steps China had taken to date, as well as its adjustment to the exchange rate mechanism for the yuan in August, which was accompanied by a devaluation of the currency, had helped to defuse risks.
Xi said China would continue to seek to attract foreign investment, improve the rule of law to enhance the business environment, protect intellectual property rights, and promote fair competition.
China has rattled nerves around the region and prompted concern in Western capitals about its increasingly assertive moves to push its territorial claims in the South China Sea, including construction of artificial islands.
Xi was unequivocal in his defense of China's right to develop the areas it claims as its own.
"The islands and reefs in the South China Sea are Chinese territory since ancient times. They are left to us by our ancestors. The Chinese people will not allow anyone to infringe on China's sovereignty and related rights and interests in the South China Sea," he said.
However, it is not in China's interests for there to be instability in the South China Sea, he added.
"China would not want any turbulence there, still less would it be the party to stir up chaos," Xi said, adding that China would work to manage disputes via talks and ensure freedom of navigation.
On a lighter note, Xi, a football fan, highlighted the potential for further UK-China cooperation on the sport. Xi is to visit the Manchester City football club on Friday, accompanied by UK Prime Minister David Cameron, according to a schedule of the trip provided by Buckingham Palace.
"My greatest expectation on Chinese football is for the Chinese team to be one of the best in the world and for football to play an important role in making people stronger in body and mind," Xi said.
Comments will be moderated. Keep comments relevant to the article. Remarks containing abusive and obscene language, personal attacks of any kind or promotion will be removed and the user banned. Final decision will be at the discretion of the Taipei Times.