Monks mobilize against Muslims
BUDDHIST BULLY: Wirathu is the most well-known member of a group of Burmese monks who have been marginalizing Rohingya through their brand of nationalism
With a smile, Myanmar's most notorious Buddhist monk boasts of the sleepless nights he endures on his self-appointed quest against the country's Muslims — one that he claims has helped strip voting rights from hundreds of thousands of the religious minority.
Wirathu, whose anti-Muslim campaign has stoked religious tensions in the Buddhist-majority nation, said he spends most nights at his tranquil Mandalay monastery glued to his computer screen, streaming images from some of the world's most violent Muslim militant organizations.
He then posts messages to his 91,000 Facebook followers, helping foment the idea that Buddhism is under threat.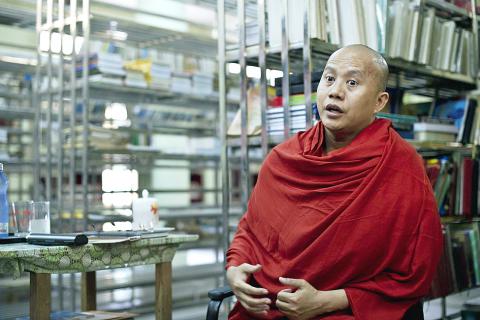 Burmese monk Wirathu speaks during an interview at a monastery in Mandalay, Myanmar, on Aug. 26.
Photo: AFP
"Many days I don't sleep at all," the monk, who goes by one name, told reporters, adding his work is so arduous that he lacks the time enjoyed by Burmese President Thein Sein and opposition leader Aung San Suu Kyi to "have family meals and put on makeup."
Myanmar's Muslims, who make up at least 5 percent of Myanmar's population of 51 million, have a long history of involvement in public life.
However, they have faced increasing marginalization under the current quasi-civilian government that replaced junta rule in 2011. Recent years have also seen bouts of deadly anti-Muslim violence and there are fears the spread of hate speech could trigger further troubles in the run-up to the nation's landmark Nov. 8 election.
Wirathu, whose soft voice belies the vitriol behind his words, is the best-known member of an alliance of monks who have inserted their hardline stance into Myanmar's mainstream politics. He was jailed in 2003 for inciting religious tension under the former military rulers. However, their successors have appeared keen to allow his brand of nationalist Buddhism to flourish.
Wirathu claimed "victory" for pressuring the government to push controversial laws through the Burmese Assembly of the Union — which rights groups say discriminate against women and religious minorities — and helping to snatch voting rights from hundreds of thousands of Muslim Rohingya in strife-torn Rakhine State.
In March, Myanmar revoked temporary identification documents — a move affecting hundreds of thousands of Rohingya, who have since been stripped of voting rights after parliament banned people without full citizenship from voting.
Observers say both Aung San Suu Kyi's opposition National League for Democracy (NLD) and Myanmar's ruling party have bowed to the hardliners, declining to field Muslim candidates for polls seen as a crucial test of democratic progress.
The move risks leaving non-Rohingya Muslims who are entitled to vote without Muslim candidates to back at the polls.
A senior Muslim NLD member told reporters that "not a single Muslim" was among more than 1,000 party candidates for the upcoming elections — the first it has fought in 25 years.
Aung San Suu Kyi "must be afraid" of the monks, the source said on condition of anonymity.
"People see this as religious discrimination. Many Muslims are saying they will not vote," the source added.
The disappointment was evident at Mandalay's historic and bustling Joon Mosque, where trustee Khin Maung Win said local people had long supported the NLD.
"It seems Muslims are not accepted at all. In a real democracy, we would have the right to choose," he said.
Buddhist hardliners have painted Myanmar's opposition leader as sympathetic to Muslims — a potential Achilles' heel in the polls.
The "shift to the right is very worrying" for Myanmar, said analyst Khin Zaw Win of Yangon-based political think tank the Tampadipa Institute.
"It is a very bad omen for the Muslims of this country," he told reporters.
Swathed in his monk's robe, Wirathu said Buddhist organizations are gearing up for a celebration to mark the passage into law of four bills that include curbs on inter-faith marriage, family size and conversion. Branding the NLD's reluctance to back the laws as a "black mark," he warned against any attempt to change them.
"Any government that amends these laws will be brought down," he said.
The monk, who has earned international notoriety for calling UN Special Rapporteur on Myanmar Yanghee Lee a "whore," welcomed the lack of Muslim election participation.
"We do not want any foreigner in the parliament," he said.
Sitting MP Shwe Maung has been at the sharp end of that campaign.
The Rohingya lawmaker for the ruling Union Solidarity and Development Party (USDP) was recently barred from running in the November polls.
Election officials disqualified him after deciding his parents were not citizens — despite the fact he currently holds the seat and his father was a senior policeman.
"How many times do we need approval? Now in the middle of the 21st century, 2015, we are in the transition of disciplined democracy in Myanmar. If this is the case, the election will be unfree and unfair," he told reporters, referring to the junta's term for the country's managed political transition.
Rohingya, who are often labeled immigrants from Bangladesh despite many having long histories in Myanmar, were courted by the USDP in the run-up to flawed 2010 elections. However, they have been increasingly ostracized since deadly unrest in 2012 between Buddhists and Muslims in Rakhine, which left about 140,000, mainly Rohingya, confined to desperate displacement camps.
The Muslim vote in Shwe Maung's Rakhine constituency of Buthidaung has all but disappeared — from 150,000 in 2010 to an estimated 10 — following the move to revoke temporary identification documents and restrict voting rights.
"If people cannot vote, what will be the use of the candidacy? If the candidacy is denied, for whom will people vote?" he said.
Comments will be moderated. Keep comments relevant to the article. Remarks containing abusive and obscene language, personal attacks of any kind or promotion will be removed and the user banned. Final decision will be at the discretion of the Taipei Times.