Burundian journalists flee nation
'WAY AROUND': Burundian journalists made their first broadcast on six Rwandan radio stations on Thursday, some of which are able to be heard in their country
Alexandre Niyungeko, the president of a Burundian journalists' union, sits at a computer in a cafe in Rwanda. He should be busy covering his country's key parliamentary elections tomorrow.
However, like scores of fellow journalists, as well as civil activists and opposition politicians, he fled weeks of pre-election unrest to Kigali, capital of neighboring Rwanda.
About 70 people have been killed in weeks of opposition protests that have been brutally suppressed, triggering an exodus of about 127,000 into neighboring countries.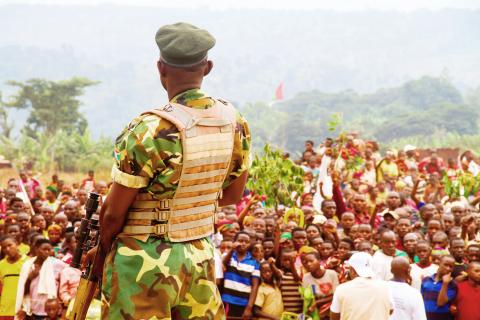 A soldier stands guard as people attend a rally by Burundian President Pierre Nkurunziza, not shown, in Bujumbura on Friday.
Photo: AFP
Tightly controlled Rwanda — which has a similar ethnic makeup as Burundi — is seen as a safe place to wait and see how the elections play out.
"It is difficult to see how the people threatening us could cross the border without the knowledge of the Rwandan authorities," Niyungeko said, adding that he left Burundi due to threats against his family.
In Kigali, where security forces have earned a reputation for a tight grip on power, he feels "more secure" than elsewhere.
The troubled central African nation of Burundi has been in crisis since late April over Burundian President Pierre Nkurunziza's bid to stand for a third consecutive five-year term, a move branded by opponents as unconstitutional and a violation of a peace deal that ended 13 years of civil war in 2006.
Many fear a repeat of that violence, which split the country along ethnic lines between the majority Hutus and minority Tutsis, as well as between rival factions within those groups.
Opposition parties on Friday said they would boycott all polls, with parliamentary elections set to go ahead tomorrow — despite international concerns over their credibility — ahead of the presidential vote on July 15.
Several journalists who have been covering Burundi's crisis, which has seen weeks of street demonstrations, a violent police crackdown and a failed coup by a section of the army, have complained of being subjected to threats — including death threats — by members of the police or other branches of the security forces.
Burundi's domestic independent media has also been largely silenced amid the unrest, with private radio stations attacked and damaged during the coup attempt after broadcasting messages from the putschists.
Relations between Rwanda and Burundi are tense after Rwandan President Paul Kagame urged Nkurunziza to end his bid for a third term. Several top Burundian officials — including the deputy vice-president, members of the election commission and constitutional court — have fled the poverty-stricken and landlocked country.
The people of Rwanda and Burundi have close ties, taken turns sheltering in each other's country when trouble spiked, including during Rwanda's 1994 genocide and Burundi's 1993-2006 civil war. However, relations between Bujumbura and Kigali are more frosty.
Besides the journalists, activists and opponents, thousands more Burundians have fled to Rwanda, some of whom Bujumbura accuses its neighbor of training as rebels.
In Rwanda, a country often criticized for clamping down on freedom of the press, Burundians at least move freely, with more than 40 journalists from independent media outlets now in Kigali.
On Thursday, Burundian journalists made their first broadcast relayed on six Rwandan stations, some of which can be picked up inside Burundi.
It is a "way around" to get information out," said Patrick Nduwinama, who heads Burundi's Radio Bonesha, which is now broadcasting from Kigali.
Comments will be moderated. Keep comments relevant to the article. Remarks containing abusive and obscene language, personal attacks of any kind or promotion will be removed and the user banned. Final decision will be at the discretion of the Taipei Times.