Maduro expels US officials amid unrest
'FASCIST' PLOT: Venezuela's president said the US had been plotting against him, and called for supporters to march at the site of an opposition rally, with clashes likely
Venezuelan President Nicolas Maduro on Sunday ordered the expulsion of three US embassy officials after Washington came to the defense of an opposition hardliner accused by Venezuela's leader of responsibility for bloodshed during anti-government protests.
Maduro did not identify the US consular officials, but said that Venezuelan intelligence officials who tailed them the past two months found evidence they were trying to infiltrate Venezuelan universities, a hotbed of recent unrest, under the cover of doing US visa outreach.
Venezuelan Foreign Minister Elias Jaua was scheduled to provide more details yesterday.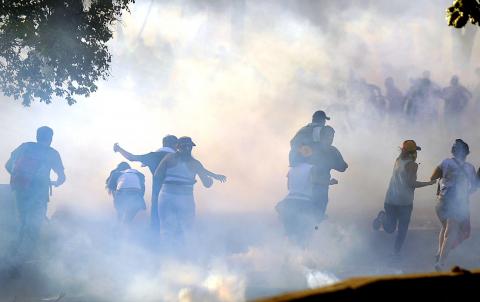 Anti-government students taking part in a protest run from tear gas shot by the National Guard in Caracas, Venezuela, on Sunday.
Photo: AFP
Triggering the expulsion was the US President Obama Barack administration's siding with opposition leader Leopoldo Lopez, who is being hunted by Venezuelan police as Maduro accuses him of leading a "fascist" plot to oust the socialist government two months after it won mayoral elections by a landslide.
Maduro said US Department of State official Alex Lee, in a telephone conversation with Venezuela's ambassador to the Washington-based Organization of American States, warned that arresting the 42-year-old former mayor would bring serious negative consequences, with international ramifications.
"These are unacceptable, insolent demands," Maduro said during a televised address on Sunday night. "I don't take orders from anyone in the world."
There was no immediate reaction from the US government, which has denied the accusations that it is plotting with the opposition against him. The US has not had an ambassador in Caracas since 2010.
The Harvard-educated Lopez has been at the center of rising tensions in Venezuela since he led the biggest demonstration yet against Maduro's 10-month-old government, mobilizing more than 10,000 people on Wednesday last week to peacefully protest hardships ranging from rampant crime to 56 percent inflation.
The government blamed him for the mayhem that erupted after the rally ended and a group of students battled with security forces and armed pro-government militias, leaving three dead. Most of the demonstrators had gone home before the violence broke out.
In his television speech, Maduro called for a march by oil workers today, beginning at the same central plaza in Caracas where Lopez said he would rally with supporters dressed in white the same day, setting up the potential for clashes between the opposing forces. Lopez announced his plans a few hours before Maduro's speech, appearing in a video shot at an undisclosed location.
He said he did not fear arrest, but accused authorities of trying to violate his constitutional right to protest Maduro's government.
He said that after today's march to the Interior Ministry, he planned to walk the final steps alone to the agency to deliver a petition demanding a full investigation of the government's role in the deaths. He said he was prepared to turn himself over to officials then and answer to an arrest order on charges ranging from terrorism and homicide to vandalism of public property.
"I haven't committed any crime," said Lopez, who has not been seen in public since a news conference on Wednesday night after the bloodshed. "If there is a decision to legally throw me in jail, I'll submit myself to this persecution."
Maduro on Sunday urged Lopez for his own safety to avoid a media "show" and accept an offer to negotiate his surrender. He claimed that some sectors of the extreme right-wing want to assassinate Lopez to provoke a political crisis.
Lopez's comments came after security forces raided his home and that of his parents over the weekend, seeking to serve the arrest order. Lopez was not at either residence when the officials arrived about midnight to the sound of banging pots and pans by neighbors protesting what they consider an arbitrary detention order.
The raids capped another night of protests during which security forces fired tear gas and rubber bullets to break up a group of about 500 students who vowed to remain on the streets until all arrested anti-government demonstrators are released.
More protests took place on Sunday, and authorities said 18 people were injured.
Lopez is the most prominent of a group of opposition hardliners who are challenging two-time presidential candidate Henrique Capriles for leadership of the anti-government movement.
Comments will be moderated. Keep comments relevant to the article. Remarks containing abusive and obscene language, personal attacks of any kind or promotion will be removed and the user banned. Final decision will be at the discretion of the Taipei Times.