FEATURE: 'Fight without rules': Russia's No. 1 pastime
Two men inside a cage grapple on the floor, one violently pounding his opponent in a no-holds-barred sport banned in many countries, but which has Russian crowds going wild for more.
"Come on, hit him hard," screamed one of the 1,000 or so spectators packed around the ring at a mixed martial arts (MMA) championship in Moscow.
Often called "fight without rules" in Russian, the combat discipline was virtually unknown here a decade ago, but since then has become an officially recognized sport and gained thousands of fans.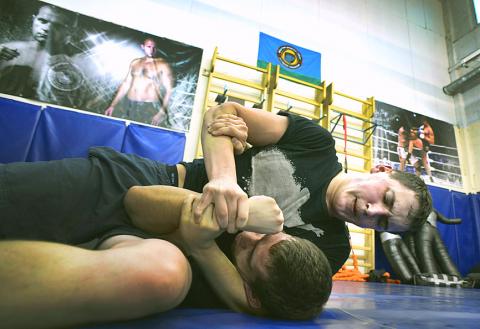 Mixed martial arts fighters train on Sept. 27 at a club in Moscow with photographs of famous Russian heavyweight fighter Fedor Emelianenko on the wall.
Photo: AFP
New clubs are popping up all the time and not just for men. Women and children are also training in this extreme fighting style that allows almost any strikes or kicks, including from judo, boxing, taekwondo, karate and kung fu.
Dating to the 1920s, MMA was popularized in the 1990s, but did not catch on in Russia until Russian heavyweight fighter Fedor Emelianenko won a series of international tournaments in 2001 and 2002.
"MMA is now very popular in Russia, almost as popular as boxing and other disciplines that have been around for much longer," said Ivan Ivanov, director of Rod, one of Moscow's major clubs.
When Rod opened its doors in 2007, it had a dozen enthusiasts. Now, about 350 people train there, said Ivanov, a bearded former police officer with an imposing build.
"There are a lot of people from the security forces, but also many students and office workers," he said.
The club admits children over the age of six, who can learn holding and striking techniques with adults. Biting, eye-gouging and strikes to the throat or spine are some of the few techniques that are banned in the ring.
"It's the sport that most resembles a street fight," said Vyacheslav "Ali Baba" Yurovskikh, an MMA amateur who at 41 is one of the older competitors at Russian tournaments.
"It's cold in Russia, so we fight to keep warm," he joked, saying that despite the sport's violent reputation, it is not so dangerous. "In the ring, there is a judge who will stop the fight in time."
Female fighter and Thai boxing champion Anastasiya Yankova, 22, got hooked the first time she tried MMA.
"In the ring, I have no fear. It's more like a rush of adrenaline. It's like a drug, a feeling that you want to repeat again and again," she said.
Still, female fighting remains a rarity in Russia and some of the more fervent MMA participants are not happy with the idea.
The MMA subculture in Russia has become mixed with nationalism as some clubs have striven to only train ethnically Slavic Russians rather than people from the mostly Muslim North Caucasus region, where combat sports are enormously popular.
Some amateur tournaments do not allow non-Slavic Russian fighters from the turbulent southern region, home to many of the country's successful wrestlers.
One major sponsor of MMA events is Russian clothing brand White Rex, which, according to the company's own advertising, aims to "recreate the fighting spirit" of the "white people of Europe."
While the sport has drawn the attention of Russian President Vladimir Putin, who is a black belt in judo, this has not thrilled some MMA circles, who famously heckled him at one of Emelianenko's last fights in Moscow in 2011.
Slavic nationalists are not natural Putin supporters and decry his policies to stabilize the North Caucasus with an injection of funding.
Putin was booed when he took the microphone in the huge Olimpiysky Stadium to congratulate Emelianenko for defeating American Jeff Monson — an incident explained away by Putin's spokesman Dmitry Peskov, who said the jeers were aimed at the fallen US contender.
Yet Anton Nemov, an MMA tournament organizer who was present, said the crowd was angry "basically because it was Putin."
However, Emelianenko is a Putin supporter and member of the pro-Kremlin United Russia Party, last year traded his shorts for a suit and accepted Putin's invitation to join his Council for the Development of Physical Culture and Sport.
Comments will be moderated. Keep comments relevant to the article. Remarks containing abusive and obscene language, personal attacks of any kind or promotion will be removed and the user banned. Final decision will be at the discretion of the Taipei Times.