Storms barrel toward India, Philippines
AT RISK: With Cyclone Phailin and Typhoon Nari heading toward India and the Philippines, authorities warned of extensive damage and flooding
India's east coast yesterday braced for a cyclone covering half the size of the country, with tens of thousands of residents in low-lying areas fleeing their homes after authorities forecast a risk to life and extensive damage once the storm hits land.
Satellite images showed Cyclone Phailin 500km off the coast in the Bay of Bengal and likely to make landfall tonight. Some forecasters likened its size and intensity to that of Hurricane Katrina, which devastated the US Gulf Coast and New Orleans in 2005.
The Indian Meteorological Department described Phailin as a "very severe cyclonic storm" with wind speeds of 210 to 220kph and said it would hit between Kalingapatnam and the major port of Paradip in Odisha state. The US Navy's Joint Typhoon Warning Center predicted gusts of up to 305kph.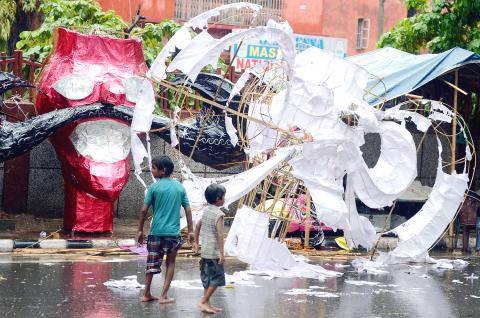 Children look at destroyed effigies of the demon king Ravana due to unexpected heavy rains and wind in New Delhi, India, yesterday, two days ahead of the Hindu festival of Dussehra to celebrate the victory of good over evil.
Photo: AFP
"We plan to evacuate about 100,000 families in Ganjam District by tomorrow morning," Odisha's Special Relief Commissioner Pradeep Kumar Mohapatra said.
State authorities said 5,000 families had already moved into shelters and schools. Shelters were being stocked with rations, and leave for government employees was canceled.
The government broadcast cyclone warnings through loudspeakers and on radio and television as the first winds were felt on the coast and in the state capital, Bhubaneswar. People living in thatched houses in low-lying areas were told to move to cyclone shelters, high-rise buildings and other safer places.
Residents reported 3.5m waves, but fishermen hoped the storm would pass over and were reluctant to leave their boats.
Helicopters were on standby in neighboring West Bengal, ready to drop food packets into isolated areas, officials said.
Indian authorities warned of extensive damage to crops, village dwellings and old buildings, as well as disruption of power, water and rail services.
"Within 12 hours of cyclone strike we will try to clear all the roads. Within 24 hours we will try to restore water supply and electricity," Mohapatra said.
Meanwhile, Typhoon Nari also gained strength as it swept toward the Philippines yesterday, prompting warnings of more brutal weather for tens of millions of people living around the flood-prone capital.
Nari forced US Secretary of State John Kerry on Thursday to cancel a visit to Manila, and weather forecasters said it had since been upgraded from a tropical storm to a typhoon as its wind gusts increased to 160kph.
Nari was expected to hit farming regions on the east coast of the main island of Luzon late last night, with "heavy to intense" rain forecast across its 500km-wide footprint, the state weather service said.
Manila is about 135km south of where the eye of the storm is expected to make landfall, and government weather forecaster Bernie Belen said the capital would likely again endure floods.
"Even without a storm, heavy rains can cause floods in Manila. How much more when there is a typhoon?" Belen said.
Heavy rains are expected to persist across much of the main island of Luzon throughout today as Nari travels west, before blowing out into the South China Sea in the evening.
Comments will be moderated. Keep comments relevant to the article. Remarks containing abusive and obscene language, personal attacks of any kind or promotion will be removed and the user banned. Final decision will be at the discretion of the Taipei Times.