Feature: 'Black clinics' expose crisis in China's health system
A one-room shack with a single, bare light bulb on a non-descript Beijing side street is 29-year-old Chinese migrant worker Zhang Xuefang's best recourse to medical care.
Not recognized as a Beijing resident, she does not qualify for cheaper healthcare at government hospitals and her hometown is too far away to take advantage of medical subsidizes there.
Like millions of other migrant workers, Zhang, on whose labor China's economic boom depends, is forced into a seedy and unregulated world of back alley "black clinics" if she falls ill.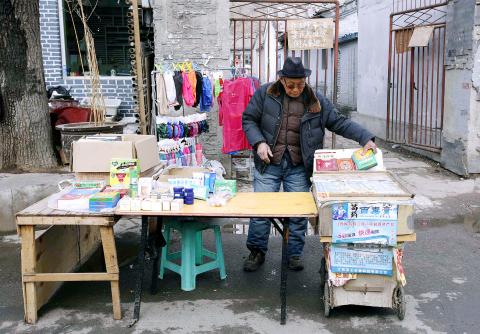 A street vendor displays therapeutic goods at a stall at a street market on the outskirts of Beijing on Wednesday last week.
Photo: Reuters
The issue highlights the two-tier nature of China's overburdened healthcare system and goes to the heart of a heated debate about how to reform the contentious hukou system of household registration, a cornerstone of government policy for decades which essentially legalizes discrimination between urban and rural residents.
The hukou system, which dates to 1958, has split China's 1.3 billion people along urban-rural lines, preventing many of the roughly 800 million Chinese who are registered as rural residents from settling in cities and enjoying basic urban welfare and services.
China's new government has vowed to change this divisive system with reforms aimed at sharing more equally the bounty of China's economic growth and consumption-led growth.
Newly appointed Chinese Premier Li Keqiang (李克強) vowed at his debut news conference earlier this month to press ahead with reforms to narrow China's urban-rural gap, including giving migrant labor more equal access to medical insurance.
No details have yet been announced, so black clinics will remain the affordable last resort for migrant workers.
"Health care insurance and other social insurances are closely linked to hukou. Providing better social insurance is, I believe, an incentive to reform hukou system," said Zhang Shuo (張碩), a senior Health Specialist with the World Bank's Beijing office.
"China's urbanization will be unprecedented in speed and scale," Zhang Shuo said. "Portable social insurances is key to encourage labor migration, but it will take some time for a country as big as China."
"Black clinics are the dark corner of China's medical system," said Jiao Zhiyong (焦志勇), a professor at Beijing's Capital University of Economics and Business. "Migrant workers are their main patrons largely due to flaws in the health insurance system."
Zhang Shuo added that China's healthcare insurance system is a fragmented one, mostly coordinated within counties. However, migrant workers usually have to seek medical treatment outside their home counties.
The Beijing government has shut down about 1,000 black clinics a year since 2010, according to government figures.
However, many reopen nearby or at the same place only days after being closed.
While China has never published numbers for how many black clinics exist, every so often state media reports deaths at these unlicensed health centers.
In January, Chinese newspapers reported that a migrant worker from Fujian Province died from a cardiac arrest hours after receiving an intravenous drip to relieve her cold symptoms in a black clinic.
Comments will be moderated. Keep comments relevant to the article. Remarks containing abusive and obscene language, personal attacks of any kind or promotion will be removed and the user banned. Final decision will be at the discretion of the Taipei Times.