China returns Burmese refugees to war zone: rebels
China has pushed thousands of refugees from Myanmar's Kachin minority back across the border into a province wracked by fighting between government troops and ethnic guerillas, the rebels said on Friday.
Around 2,000 Kachin refugees have returned from China's Yunnan Province this week and languish in camps near the border between the two nations, La Nan of the Kachin Independence Organization (KIO) told reporters, adding more were expected to cross.
"Chinese authorities in Yunnan have pressured them many times to go back to Burma [Myanmar]," he said, speaking from the rebel capital of Laiza. "About 2,000 have returned and are in camps on the Kachin side of the border. There were 5,000 refugees on the China side ... they will all come back."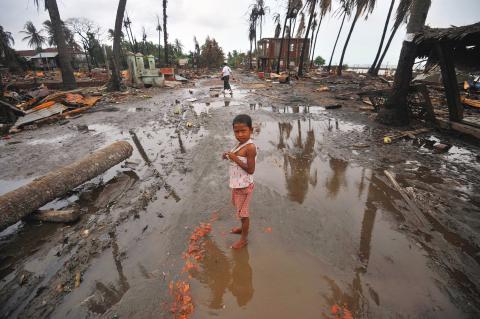 A child stands in a street lined with destroyed buildings following days of sectarian violence in Sittwe, Myanmar, on June 16.
Photo: AFP
The KIO's armed wing, the Kachin Independence Army (KIA), said it had crossed the border to guide refugees back to Myanmar on China's request.
"They [China] said they do not accept war refugees. We started moving refugees from their territory on Aug. 22 [Wednesday] ... we have moved about 1800 refugees in three days," KIA official Sai Li said.
Continued fighting between the Burmese government and KIA forces means many of the refugees cannot return to their homes, Sai Li said. Tens of thousands of people have fled the fighting since June last year when a 17-year ceasefire between the government and rebels collapsed, with an estimated 5,000 seeking refuge in China.
The Chinese Ministry of Foreign Affairs refuted allegations of forced returns of refugees saying they had crossed back "by their own volition when the fire had ceased."
Recent talks to resolve the conflict in the country's north have been overshadowed by ongoing battles.
Confirming the refugee return, New York-based Human Rights Watch criticized China for rejecting displaced people, saying violence awaits them in their home towns.
"China is flouting its international legal obligations by forcibly returning Kachin refugees to an active conflict zone rife with Burmese army abuses," Human Rights Watch's Bill Frelick said.
Comments will be moderated. Keep comments relevant to the article. Remarks containing abusive and obscene language, personal attacks of any kind or promotion will be removed and the user banned. Final decision will be at the discretion of the Taipei Times.