French takes center stage at Quebec forum
The first global forum on French opened on Monday in the Canadian province of Quebec, aimed at strengthening the language in a world dominated by English.
The French Language World Forum, which is being held in historic Quebec City through Friday, is expected to draw more than 1,000 artists, speakers, businesspeople, youth and representatives from civil society.
Heads of state are not invited since the gathering hopes to avoid the formality of diplomatic summits.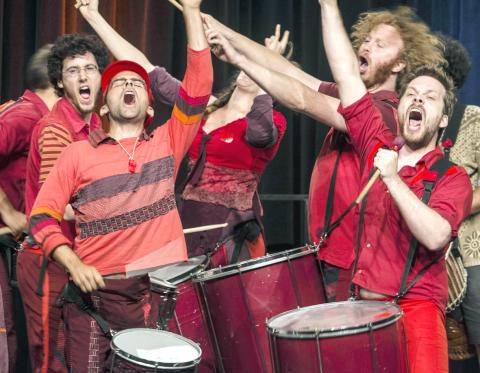 Members of the Orchestre de la Francophonie perform during the opening ceremony of the Forum Mondial de la Langue Francaise on Monday in Quebec City, Canada.
Photo: AFP
Events and discussions will focus on four major themes: the economy, the cultural industry, the place of French in the digital world and the coexistence of languages.
This week, in an effort to structure debate at the forum, about 40 people from France, Canada, Lebanon, Algeria and Cameroon signed a petition demanding the end of an obsession with all things English.
"We see a new world emerging, and that's an opportunity for the French language and the French-speaking world," Louise Beaudoin, a member of Quebec's National Assembly who signed the petition, said in reference to the rise of Brazil, Russia, India and China in a "multipolar world."
"We have to seize that opportunity," she said.
Abdou Diouf, secretary general of the International Organization of the Francophonie (OIF), a union of French-speaking nations, blamed intellectuals and businesspeople for not taking enough interest in promoting the language of Moliere around the world.
"In large part, academics and intellectuals don't care. It's a new intellectual treason, and businessmen care even less. When you talk to them about it, you bore them. You get the impression that only globalization interests them," Diouf said in an interview on Saturday with Quebec's daily Le Devoir.
"We must define the French language and its development according to what we want it to be first and foremost, in a context of linguistic diversity," said Michel Audet, who will head the forum in Quebec.
There are about 220 million French speakers around the world, according to the OIF.
However, "if all goes normally, at the beginning of 2050, there should be more than 700 million French speakers, 80 percent of whom will be in Africa," Diouf said.
Forum participants are to discuss concrete steps on how to facilitate the flow of artists, university students and businesspeople among francophone countries, as well as how to increase scientific publication in French and promote trade.
The issues are not likely to be resolved before the October summit of francophone governments in Kinshasa, the Democratic Republic of the Congo.
The forum comes amid worries by some about creeping anglicization in Montreal and after a spring marked by unprecedented student protests about tuition hikes that soured the government's image in French-language media.
"There are pictures that have hurt Quebec's reputation around the world and those are ones of thugs and intimidation," Quebec Culture Minister Christine St-Pierre said on the sidelines of a news conference about the forum. "We are going to rebuild that image."
Paris Mayor Bertrand Delanoe has already said that he will meet with representatives of the student movement during his time in Quebec.
For five months, students, joined by anti-capitalists, have held protests against plans by the Quebec provincial government to increase tuition fees by 75 percent.
Comments will be moderated. Keep comments relevant to the article. Remarks containing abusive and obscene language, personal attacks of any kind or promotion will be removed and the user banned. Final decision will be at the discretion of the Taipei Times.