Excitement builds up over Bhutan's royal wedding
Bhutan's king, who is getting married today in a traditional ceremony in the isolated Himalayan nation, is a 31-year-old with a popular touch known to invite his people into his home for tea and a chat.
Jigme Khesar Namgyel Wangchuck took to the throne in 2008 at the start of democracy in the inward-looking country famed for its invention of the term "Gross National Happiness" and its ban on foreign television until 1999.
In three years, the young monarch, known variously as K5 — the fifth king — and the "prince charming of the Himalayas," has emerged from the shadow of his revered father and inspires almost as much devotion from his 700,000 subjects.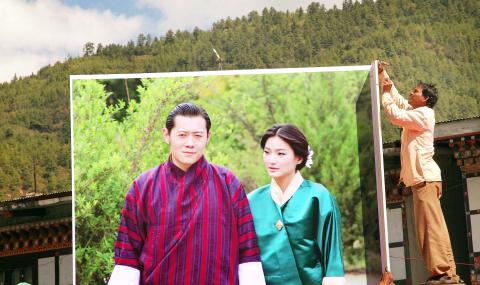 A Bhutanese worker fixes a picture showing King Jigme Khesar Namgyal Wangchuck and future queen Jetsun Pema in Thimphu, Bhutan, yesterday.
Photo: EPA
"The fifth king in a short space of time has performed exceedingly well," parliamentary opposition leader Tshering Tobgay said. "He has walked the length and breadth of the country and met nearly every citizen."
Such praise is commonplace on the streets of the capital, Thimphu, where tens of thousands of people are expected to turn up for a public celebration of the royal nuptials on Saturday.
However, few know much about their future queen, save for a few details about her competitiveness on the basketball court and her tender age.
Jetsun Pema, a 21-year-old student, was introduced to the public in May and has since discreetly joined the monarch on his domestic trips, most recently to earthquake victims in the west of the country.
Her face adorns a thousand posters, commemorative plates and badges that have been made to mark the occasion and her demure looks have apparently won over the public in the country known as the "Land of the Dragon."
"I don't know that much about her, but she's beautiful," said Zhung Chuck, a 23-year-old business student. "His Majesty chose the right one."
Others admire the apparent impact the daughter of an airline pilot has made on the king, who talks openly of his love and admiration for her, even holding her hand at public functions.
"He really loves her," 16-year-old schoolgirl Jurme Choden said as she waited to practise a dance routine for the public celebrations on Saturday. "Wherever he goes he holds her hand. Now young people are starting to copy."
The royal couple apparently met when aged 17 and seven respectively at a family picnic in Thimphu.
The then-prince got down on his knees and said: "When you grow up, if I am single and not married and if you are single and not married, I would like you to be my wife, provided we still feel the same," he told students in August.
After schooling in India and then the US, the king took a degree in political science and economics at Oxford University, where fellow students remember him as someone serious about his studies.
"He didn't go to social occasions that much, but he had friends," remembers one fellow student, who asked not to be named. "He was very much the same sort of person as you see now as king: solid and reliable."
The principal of Lungtenzampa secondary school, Kinley Pem, taught both the king and the future queen at different times.
She remembers Pema, who has two brothers and two sisters, as an accomplished captain of the school basketball team and someone who won prizes for public speaking.
"She doesn't have any airs. I think she didn't even dream of becoming a queen," the school principal said.
Pema pursued part of her studies in London, where she is said to have developed a keen interest in the arts, and is studying for a degree in international relations.
Her future role is likely to be doing charity work and, it is hoped, looking after the heir to the throne once the couple have children.
Since the advent of democracy in 2008, the king has a largely symbolic position, occasionally giving advice to the government on constitutional matters but steering well clear of the daily acts of governance. The Elvis fan and keen mountain-biker, who has vowed to help shield his people from globalization, is known to invite citizens round to his modest cottage in the capital, where he listens to their problems and fears.
He is one of 10 siblings born to the former king and his four wives, who are all sisters.
Comments will be moderated. Keep comments relevant to the article. Remarks containing abusive and obscene language, personal attacks of any kind or promotion will be removed and the user banned. Final decision will be at the discretion of the Taipei Times.