FEATURE: Zulu newspapers thrive in S Africa
BUCKING THE TREND: While most South African print media face declining sales and advertising revenue, Zulu publications are flourishing and actually increasing sales
Five newspapers line a vendor's makeshift table built from cardboard and sticks, but most customers go straight for Isolezwe, one of South Africa's growing Zulu-language dailies.
"I guess people feel comfortable reading in their language," said Blessings Kupe from his stand at a busy Johannesburg taxi rank where he offers the country's most-read papers, all English titles like Daily Sun and the Star.
Even Kupe, a Zimbabwean who speaks Shona, has started reading the newspaper so he can learn Zulu.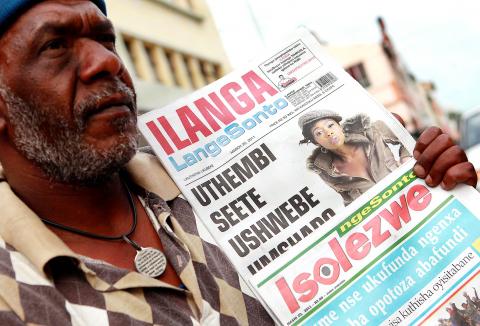 A man holds up the cover of the Ilanga newspaper — one of the two Zulu-language newspapers which have been published in South Africa for over a century — in Durban, South Africa, on March 20.
Photo: AFP
While most South African print media battle declining circulations and an advertising market still soft after the 2009 recession, Zulu-language papers are flourishing, with more titles appearing and sales rising.
"I enjoy reading Isolezwe because it's Zulu and it's written in a conversational tone," said Bafana Mthethwa, a 40-year-old shop assistant at Kupe's stand.
The tabloid-style Isolezwe, which means "Eye of the Nation," is also one of the cheapest papers on the market, selling for 2.80 rand (US$0.40).
South Africa has 20 daily and 13 weekly newspapers, making it the most vibrant newspaper market in the region.
Most are in English, which is the language of government and business even though only 8 percent of the population are native speakers.
Zulu, on the other hand, is the mother tongue of 24 percent of the population, concentrated in the eastern province of KwaZulu-Natal.
The Zulu press has a long -history in South Africa, with titles like Ilanga (the Sun) and Um-Africa (the African) published in KwaZulu-Natal for more than a century.
Isolezwe was launched in 2002 and is now the country's third-most popular paper, according to the Audit Bureau of Circulation.
Sales of its daily edition rose 3.5 percent last year to 104,320, while its Sunday edition jumped 25 percent to 74,916. Sales of the weekly Ilanga, also in Zulu, jumped by a quarter last year.
In contrast, sales of South Africa's most popular paper, the Daily Sun, dropped nearly 16 percent last year to 414,276 copies. Major titles like the Star and the Sowetan also saw declines.
Sensing the trend, the Sunday Times started a Zulu edition in November, printing 25,000 copies a week and selling about half, editor Thulani Mbatha said.
"Our research over the past few months has shown that other papers have not been affected by our launch and yet we continue to increase our readership which means that there is a market," Mbatha said.
Part of the reason for the rise in Zulu media is that the language can be understood by speakers of Xhosa, Swati and Ndebele, all Nguni languages used by about half of South Africa's population, said Sihawukele Ngubane, of the Pan South African Language Board.
Zulu is the only language besides English and Afrikaans, used by descendants of the first European settlers, in which major national titles are produced.
Only English and Afrikaans were officially recognized under the whites-only apartheid system that was wound down in the 1990s, with the first all-race election held in 1994.
South Africa's post-apartheid Constitution added nine more official languages.
"The official status of nine indigenous languages has also increased interest in the market since these languages are now highly valued by its speakers, unlike in the past where it was not cool to read an isiZulu newspaper," Ngubane said.
Comments will be moderated. Keep comments relevant to the article. Remarks containing abusive and obscene language, personal attacks of any kind or promotion will be removed and the user banned. Final decision will be at the discretion of the Taipei Times.