FEATURE : Emerging left takes on Chavez
A leftist movement disenchanted with the evolution of Venezuelan President Hugo Chavez's "socialist revolution" hopes to prove itself in key Venezuelan elections today.
Several small leftist parties have broken off with Chavez, introducing critical voices to a legislature where the main opposition has been absent since boycotting the last elections in 2005.
They are now aiming for more seats in the next, more plural National Assembly, and to offer an alternative to the government and traditional opposition in polarized Venezuela.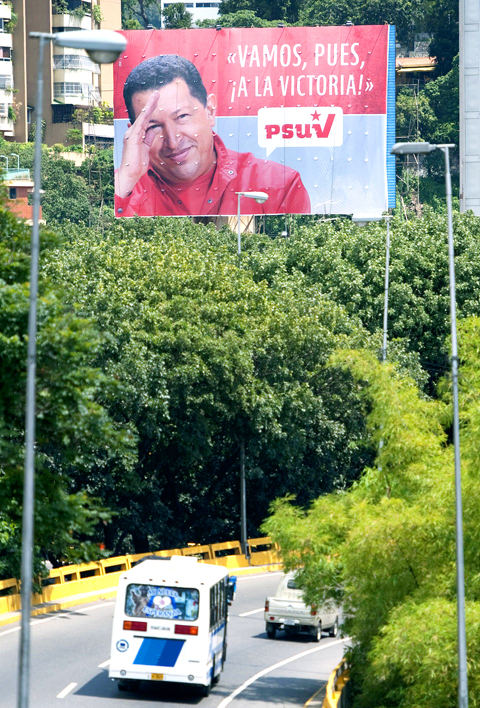 A billboard reading "Let's go, yes, to victory" with a picture of Venezuelan President Hugo Chavez is seen in Caracas on Friday.
PHOTO: AFP
Like the main conservative opposition, they hope to attract support from Venezuelans disappointed with Chavez's nationalizations of key industries and concentration of power in 11 years of tumultuous rule.
"Part of the discontentment we're experiencing is due to the fact that people are realizing that this isn't the regime they voted for," said historian Margarita Lopez Maya, a candidate for the leftist Patria Para Todos (PPT, Homeland For Everyone) party.
The PPT wants to offer a third way between Chavez's United Socialist Party of Venezuela (PSUV) and opposition parties that have united under the umbrella Table for Democratic Unity.
Its aims for a new model no longer dependent on oil in the resource-rich nation and to create long-term plans for issues such as violence, health and education instead of popular short-term solutions they attribute to Chavez.
"The PPT has become a possible hope in a country marked by political extremes," said Henri Falcon, governor of the northern state of Lara, who defected from Chavez's party several months ago.
The party currently has six seats, as does Podemos, which broke off from Chavez's party in 2007 over his plans to change the Constitution to remove term limits.
"I didn't follow a man, I followed a project that was part of the Constitution," Podemos lawmaker Juan Jose Molina said.
Never one to hold his tongue, Chavez denounces the other leftist parties and says they are doomed to failure.
"They say they're true democrats and I'm an authoritarian. They're traitors, defenders of the empire and bourgeoisie," Chavez said recently.
Chavez parties currently have 139 seats out of 167 in the National Assembly, with the rest occupied by dissidents.
Analysts say Venezuelans are tiring of the lack of political diversity and debate, while voters say they are still seeking a strong alternative to Chavez.
"Politics have been reduced to if we like Chavez or not," Lopez Maya said.
While Podemos has joined the opposition coalition, the PPT will present itself as a separate party for the first time today.
Polls suggest all opposition parties together could win some 60 out of 165 seats, offering a real counterweight to the PSUV.
"The government is offering a single candidate ... but on Sept. 26 we'll have a plural and diverse assembly," Molina said. "The Venezuelan left can obviously work without Chavez. He's not a man of the left, he's an autocrat fixed on power."
According to Falcon, Chavez supporters, including governors, ministers and mayors, are afraid to criticize the ruling party, from which there could be defections after the weekend.
More than 17 million of almost 29 million Venezuelans are eligible to vote today, while those elected will take up their posts in January next year.
Comments will be moderated. Keep comments relevant to the article. Remarks containing abusive and obscene language, personal attacks of any kind or promotion will be removed and the user banned. Final decision will be at the discretion of the Taipei Times.