FEATURE : Japanese veterans recall Nanjing in documentary
Young Japanese infantryman Sawamura turned numb when he was ordered to bayonet a Chinese peasant as fellow soldiers looked on and taunted him.
"You captured him, so you get rid of him," his lieutenant barked, yanking the 21-year-old soldier toward his writhing victim, only days after Japanese troops had overrun the Chinese city of Nanjing in December 1937.
"I stumbled forward and thrust the blade into his body until it came out on the other side," said Sawamura, who is now 94 years old. "We were told not to waste bullets. It was training for beginners."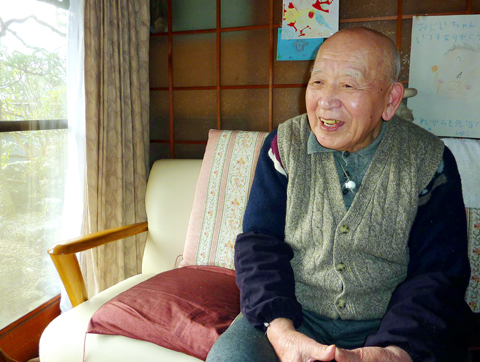 Former soldier Sawamura speaks during an interview at his residence in Kyoto, Japan, on Jan. 21.
PHOTO: AFP
"I have told myself for the rest of my life that killing is wrong," said the veteran of the Imperial Japanese Army, who declined to give his surname, in an interview at his home in Kyoto.
Sawamura is one of a fast-dwindling number of Japanese former soldiers who took part in the Nanjing massacre, considered by historians the worst wartime atrocity committed by the Japanese army in China.
Historians generally estimate about 150,000 people were killed, thousands of women raped and thousands of homes burned down in an orgy of violence until March 1938 in what was then the capital of the Chinese Nationalist Party (KMT) government.
In a joint study by a Japan-China history research committee released this year, China said the true number was above 300,000 victims, while Japanese scholars estimated that anywhere between 20,000 and 200,000 were killed.
Sawamura — who now spends his days tending his potted-plants and decorating his house with his grandchildren's pictures — is one of the last Japanese alive who played a part in the massacre in the city formerly known as Nanking.
Few veterans have ever spoken about what in Japan remains largely a taboo subject, and most have taken their testimonies quietly to their graves.
This year, however, in a last-ditch effort to keep their dark memories alive, Japanese activist Tamaki Matsuoka released a documentary in which veterans speak for the first time on film about the mass killings and rapes.
Torn Memories of Nanjing recently aired at the Hong Kong International Film Festival and may soon screen at the Sydney Film Festival.
For more than a decade Matsuoka, a retired schoolteacher and long the bete noire of Japan's nationalist conservatives, interviewed hundreds of Chinese survivors of the bloodbath and some 250 Japanese veterans who were there in Nanjing.
Today only three of those soldiers survive, including Sawamura.
"Even if outsiders watch the film, I also want Japanese people to watch it and learn the facts," Matsuoka said.
Despite her efforts, though, few in Japan may see the documentary, which has only been shown in three cinemas here so far.
Japan's wartime history remains a touchy subject in the country and a flashpoint in Tokyo's relations with its East Asian neighbors, who have often complained Japan has not sufficiently atoned for its crimes.
Japanese school textbooks frequently gloss over details of Japanese crimes in World War II, sparking the ire of China, both North and South Korea and other affected countries. Some government officials have labeled the Nanjing massacre a Chinese fabrication.
Although the atrocities are well documented in the rest of the world, mostly through accounts of victims and foreigners who lived in Nanjing at the time, Japanese testimonies have been frequently discounted or hushed.
The clutch of war veterans who have publicly testified have often been harassed by right-wing nationalist groups or accused by the war dead's families of treason and slandering the soldiers' memories.
Matsuoka said she is fighting for a cause that has at times been life-threatening and often seemed fruitless.
She has been harassed by nationalists who have protested at her events and hurled insults, and some conservative magazines label her a Chinese spy.
Some of the soldiers themselves at first shooed her away or acted senile when they were questioned, she said. Angry wives pushed her out of their homes or prevented their husbands from talking about violating women.
It took her a decade to gain their trust and to persuade them to talk on camera, she said. In the end, some entrusted her with photos and war memorabilia, including a postcard of soldiers grinning next to a mound of skulls and another showing them playing with the heart of a victim.
"In Japan there is the saying that 'the nail that stands up must be beaten down.' But I'm a nail that's sticking out so far that no one can hit it down anymore," Matsuoka chuckled.
The testimonies she gathered are powerful.
Another Japanese veteran, former navy sailor Sho Mitani, 90, recounted how the sight of corpses rotting in coagulated blood sparked in him a mix of curiosity and disgust.
"We were living in an age where we were taught that Chinese were not human," he said in the film. "The army used a trumpet sound that meant 'Kill all Chinese who run away.' We were taught from childhood in schools that Chinese were like insects."
Mitani said it took him a decade to find the courage to openly give his witness account of scores of Chinese being mowed down by gunfire as they tried to flee across the Yangtze river.
He said he chose to speak out when Tokyo's conservative governor Shintaro Ishihara in a 1990 magazine interview denied the Nanjing massacre as a "lie."
"I told myself, 'Now that's wrong,' because it really happened," said Mitani, who said he witnessed killings through a telescope from a navy destroyer.
"I had to tell the truth," the old sailor said.
Comments will be moderated. Keep comments relevant to the article. Remarks containing abusive and obscene language, personal attacks of any kind or promotion will be removed and the user banned. Final decision will be at the discretion of the Taipei Times.