Okinawans split over what to do about US bases
Idyllic beach resorts jostle for space with US military bases on Japan's subtropical island of Okinawa, at the center of a feud that may cast a shadow over US President Barack Obama's visit to Japan next week.
Nowhere is the contrast between the US troop presence and the laid-back local culture more jarring than in Ginowan. Seen from a hilltop, the city's low-rise concrete buildings, including schools and hospitals, huddle around the perimeter of the Futenma US Marine air base, a dispute over which is straining the 50-year-old security alliance between Tokyo and Washington.
Many of Ginowan's nearly 90,000 residents welcome a plan to relocate the base, especially after safety fears rekindled by a 2004 helicopter crash in the city added to irritation over noise, but others are ambivalent.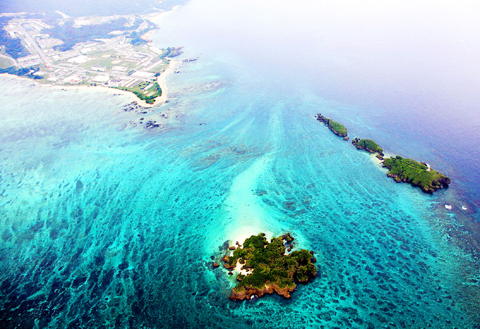 Coral reefs are pictured along the front of the US Marine base Camp Schwab, off the hamlet of Henoko in Nago on the Japanese island of Okinawa on Oct. 13.
PHOTO: REUTERS
"I want to get rid of it," said Toshio Arakaki, 52, whose three children go to a primary school a stone's throw from the base.
"If they are going to replace it, they should find somewhere not just outside Okinawa, but outside Japan. Okinawa has had enough," he said during a break from his job delivering kerosene.
Washington and Tokyo agreed in 2006 to close the base and move it to the coastal town of Henoko, in a less populated part of the island, as part of a reorganization that would involve up to 8,000 Marines being shifted to the US territory of Guam.
But Japanese Prime Minister Yukio Hatoyama, who has vowed to seek a more equal relationship with the US, says he wants more time to review the relocation plan, which is seen by many as damaging to the environment.
"Henoko is a very beautiful place, but I think it's the best option," said a 56-year-old woman working in a dry-cleaning store, who gave only her family name of Oshiro. "At least there's less danger of people being hurt."
About 1,600km southwest of Tokyo, Okinawa plays host to about half the 47,000 US troops based in Japan, despite making up only 0.6 percent of the country's land mass, a historical legacy that many see as an unfair burden.
The US military is an integral part of Japan's security, but it is also key to Okinawa's economy. That's a major factor in Japan's poorest region, where unemployment runs at 7.7 percent, well above the national average of 5.3 percent.
Okinawa is otherwise mainly reliant on the influx of nearly 6 million tourists a year, attracted by white sandy beaches, clear seas and a unique culture that owes much to China.
"There are people who make a living from renting out land for the base," said the owner of a barber shop in an almost deserted Ginowan shopping street, who declined to give his name, adding he was concerned about the economic effects of closing bases.
"Many of them are elderly. Even if they got their land back, it's not as though they could farm it," he said.
Central government subsidies meant to make up for the burden of hosting the bases also provide construction jobs.
Although the island remained under US control after World War II until its return to Japan in 1972, many Okinawans say they bear no ill will toward Americans, whatever their feelings about Futenma.
"We enjoy mixing with the Americans and learning about a different culture," said 36-year-old Atsuko Takeshika, who works in a Ginowan clothing store and lives close to the base, whose noise she says is irritating.
Takeshika said past fears of crime committed by servicemen had faded with the introduction of curfews for the troops.
"If we could work out a way to co-exist, that would be fine," she said.
Comments will be moderated. Keep comments relevant to the article. Remarks containing abusive and obscene language, personal attacks of any kind or promotion will be removed and the user banned. Final decision will be at the discretion of the Taipei Times.