Chinese scientists in hot water over icy weather
China's Weather Modification Office has been pilloried for inducing a recent heavy snow fall that jammed traffic, delayed air travel and left city residents shivering, state media said yesterday.
Sunday's snowfall dropped more than 16 million tonnes of snow on the Chinese capital, blanketing a city where winter heating services have yet to be switched on and leading to howls of public protest, the China Daily reported.
Government scientists shot massive amounts of chemicals into clouds over the city the night before to provoke the snowfall, which it said was needed because of a lingering drought in the region, the paper said.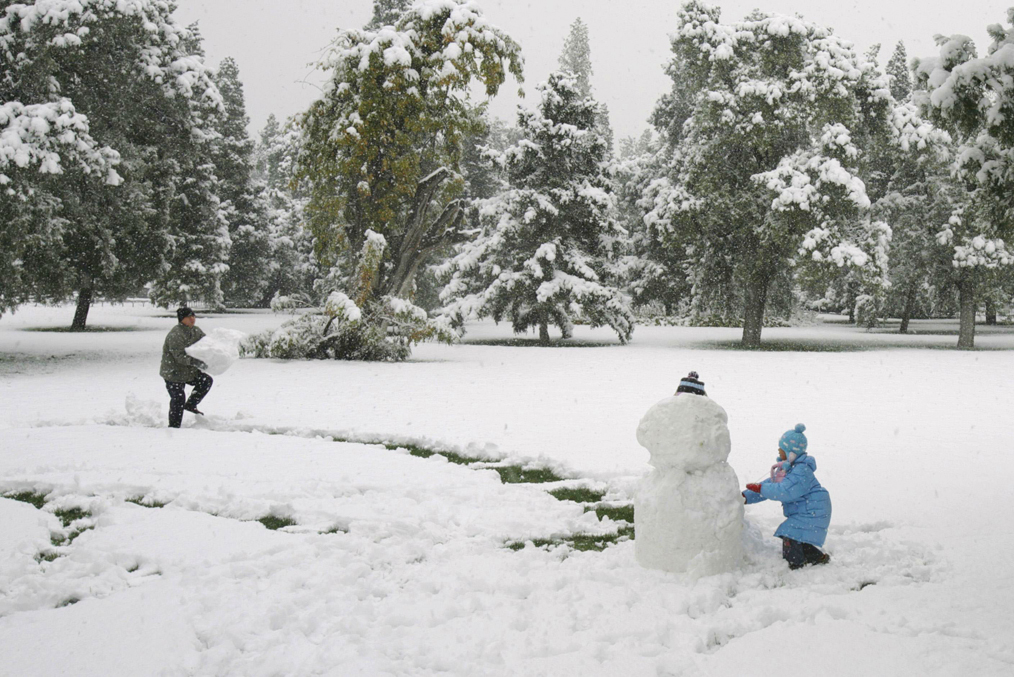 Two people make a snowman at Beijing's Temple of Heaven Park on Sunday. Not everyone was amused by the snowfall.
PHOTO: REUTERS
Heating in most Beijing buildings was due to be turned on Nov. 15, but city officials were forced to move the timetable forward and were working yesterday to bring buildings onstream ahead of schedule.
"This arbitrary government decision ... disregarded the interests of the people ... We should [have] considered the potential hazards of cloud seeding," a commentary carried in the paper said.
Sunday's snowfall, the earliest to hit the capital in 22 years, delayed 200 flights stranding thousands of passengers, led to traffic accidents and disrupted electrical services dozens of times, it said.
"[This] shows there is a lot of room to improve the national weather manipulation warning system for the public," the paper quoted Chen Zhenlin (陳振林), spokesman of the China Meteorological Administration, as saying.
Ahead of the massive celebrations marking the 60th anniversary of communist rule in China on Oct. 1, cloud dispersal chemicals were used in the Beijing area to ward off unwanted rain clouds.
Comments will be moderated. Keep comments relevant to the article. Remarks containing abusive and obscene language, personal attacks of any kind or promotion will be removed and the user banned. Final decision will be at the discretion of the Taipei Times.