Indian-American prevails at US spelling bee contest
Cool and collected, Kavya Shivashankar wrote out every word on her palm and always ended with a smile. The 13-year-old Kansas girl saved the biggest smile for last, when she rattled off the letters to "Laodicean" to become the latest in a line of Indian-American spelling champions.
The budding neurosurgeon from Olathe, Kansas, outlasted 11 finalists on Thursday night to win the Scripps National Spelling Bee, taking home more than US$40,000 in cash and prizes and, of course, the huge champion's trophy.
Eight Indian-Americans have now won the title, including six of the past 10 winners.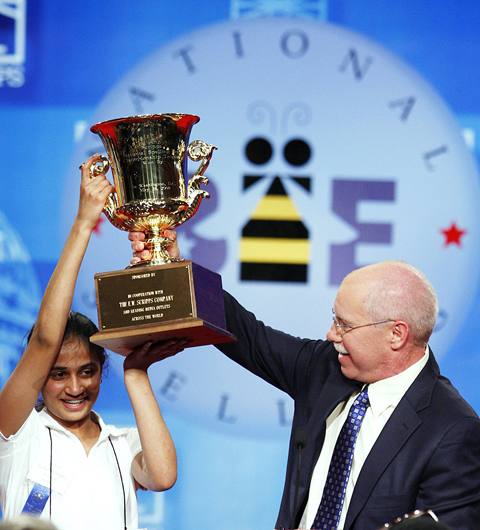 Kavya Shivashankar from Olathe, Kansas, receives her trophy from president and chief executive officer of the E.W. Scripps Co Richard Boehne after she won the 2009 National Spelling Bee in Washington on Thursday.
PHOTO: REUTERS
"I can't believe it happened," Kavya said. "It feels kind of unreal."
Kavya won in her fourth appearance at the bee, having finished 10th, eighth and fourth over the last three years.
She enjoys playing the violin, bicycling, swimming and learning Indian classical dance, and her role model is Nupur Lala, the 1999 Indian-American champion featured in the documentary Spellbound.
Last year, a final-round mishap by Sidharth Chand allowed Sameer Mishra to claim the title. Both also share an Indian heritage and aspire to be neurosurgeons.
The run of champions with South Asian roots began with Balu Natarajan of Chicago, who became the first Indian-American national bee champion in 1985.
After spelling the winning word, which means lukewarm or indifferent in religion or politics, Kavya got huge hugs from father Mirle, mother Sandy and little sister Vanya.
"The competitiveness is in her," Mirle Shivashankar said. "But she doesn't show that. She still has that smile. That's her quality."
Kavya turned 13 last week but was too busy planning for the bee to have a party.
"This is the moment we've been waiting for; it's a dream come true," Mirle said. "We haven't skipped meals, we haven't lost sleep, but we've skipped a lot of social time."
She'll have more time for such festivities now that she's retiring as a speller, but she'll eventually need another outlet for her competitive nature. Her father said she might enter the 'Brain Bee,' a science-oriented contest that should suit her career goal well."
"But I don't think anything can replace spelling," Kavya said. "Spelling has been such a big part of my life."
Second place went to 12-year-old Tim Ruiter of Centreville, Virginia, the only non-teenager in the finals. He misspelled "Maecenas," which means a cultural benefactor.
Aishwarya Pastapur, 13, from Springfield, Illinois, who loved to pump her arm and exclaim "Yes!" after getting a word correct, finished third after flubbing "menhir," a type of monolith.
Comments will be moderated. Keep comments relevant to the article. Remarks containing abusive and obscene language, personal attacks of any kind or promotion will be removed and the user banned. Final decision will be at the discretion of the Taipei Times.