Japanese breed glow-in-the-dark monkeys
They sound more like a Victorian freak show than science, but researchers say that glow-in-the dark monkeys created in a Japanese lab could be a breakthrough in treating human inherited diseases.
The monkeys were given a gene from a jellyfish and, significantly, it was inherited by their young — the first time a genetically modified animal has passed such genes down a generation. Researchers said it was major step towards understanding Parkinson's and motor neurone disease.
Animal rights groups fear it could mean more primates are used in research labs. It also raises the possibility of genetically modifying humans, although such work is illegal in Britain and in most countries.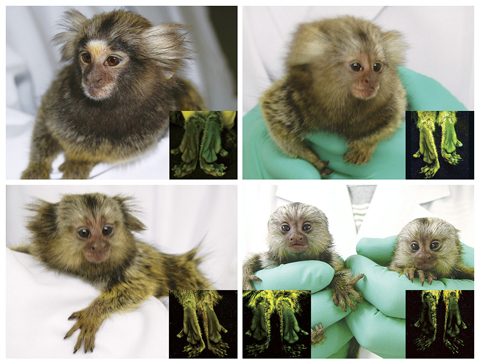 This combination photograph, released by Nature magazine on Wednesday, shows five baby transgenic marmoset monkeys, Hisui, top left, Wakaba, top right, Banko, bottom left, and Kei and Kou, bottom right. Japanese researchers yesterday reported they had genetically engineered monkeys whose hair roots, skin and blood glow green under ultraviolet light, and who had passed on their traits to their offspring for the first time in a primate.
PHOTO: REUTERS
Erika Sasaki and her team at the Central Institute for Experimental Animals in Kawasaki, Japan, added a gene to marmoset embryos that made them glow green under ultraviolet light. The embryos were transferred into surrogate females, and produced five live births.
All carried the green gene somewhere in their bodies, and two passed it to offspring. Last month, a male was born using sperm from one monkey called Kou, and two more glowing marmosets have been born since. One died after being bitten by its mother. All are healthy, and do not glow under normal lighting.
The scientists plan to create families of monkeys that develop neuro-degenerative diseases.
"Our method promises to be a powerful tool for studying the mechanisms of human diseases and developing new therapies," they wrote in the journal Nature.
But an accompanying editorial warns it "promises to raise the stakes" over animal rights by ­"intentionally introducing a harmful gene into the primate gene pool."
Genetically modified mice are often used to learn about human diseases, but in some cases primates will be more informative.
"This is potentially very exciting," said Kieran Breen of the Parkinson's Disease Society. "Because primates are much closer to humans than mice, we'll have a new animal model to work with."
Aside from whether the ­technique can indeed recreate human-type diseases, a European directive may prohibit use of primates in such research. Vicky Robinson, of NC3Rs, which campaigns to reduce use of animals, said: "We can't assume a transgenic marmoset will be better for disease research than, for example, a transgenic mouse. Any researcher will need to show the added scientific value of using a monkey outweighs the significant ethical considerations accompanying its use."
Comments will be moderated. Keep comments relevant to the article. Remarks containing abusive and obscene language, personal attacks of any kind or promotion will be removed and the user banned. Final decision will be at the discretion of the Taipei Times.