Party goes on at Thai beach resort
Rampaging protesters, a state of emergency and blood on the streets of this seedy beach resort have triggered warnings for tourists to leave town or stay in their hotels.
But it would take more than that to end the non-stop party that rages every night in Pattaya, where an Asian summit was canceled at the weekend as Thailand's political drama spilled over to its most popular holiday spot.
"Yeah, it's not good, but having said that, I know guys who'd come here if it was a war zone," said Briton Peter Norton as he and his friends knocked back Thai beer in the heart of Pattaya's bar district.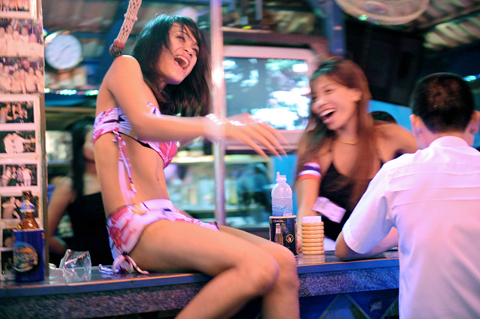 Bar girls share a drink with a customer in the red light district in Pattaya, Thailand, on Friday.
PHOTO: AFP
"I like the party here. There's cheap beer, good weather and the girls — they work hard," he shouted over the thumping disco music while gazing at Emma, a 21-year-old he rates as the "prettiest transvestite in Pattaya."
But the sex workers who stalk the streets and gyrate on go-go bar tables complain that years of turmoil in Thailand, including last year's closure of the main international airport in Bangkok, is bad for business.
"We are Thais and we are known for our smiles, but now people around the world are looking at us and we are not smiling, we are fighting each other," Emma said between posing for pictures with goggle-eyed male tourists.
"Why are they fighting? We are the same blood, we should be talking instead," she said, perched on a bar stool in a tiny black and orange floral dress and towering platform sandals.
Emma watched on TV as the thousands of anti-government protesters stormed the luxury hotel where Asian leaders had gathered to discuss the global downturn and North Korea's rocket launch.
Thailand's leader was forced to cancel the summit and declare a state of emergency for Pattaya for several hours as leaders were evacuated — some by helicopter from the hotel rooftop.
"I was very disappointed, it was an important meeting for the whole Asian people," Emma said.
"This is a tourist place and if tourists see these protests they will not want to come," she said.
Pattaya, which began its transformation during the Vietnam War when it became a popular destination among GIs from a nearby military base, attracts millions every year to its beaches and bars.
The former fishing village is now an overwhelming crush of narrow streets packed with tattoo parlors, pool halls, tailors' shops and go-go bars with names like "Candy Shop" and "Don't Tell Mama."
"Good guy goes to heaven. Bad guy goes to Pattaya," reads a popular slogan at T-shirt shops, while sex workers in school uniforms and air hostess outfits tout for business.
For most tourists, Thailand's political dramas are a minor inconvenience quickly forgotten after the first few ice-cold Beer Chang.
"We're a little bit worried, but we're here to enjoy ourselves," said one British man clad as Batman's sidekick Robin, part of a bachelor party dressed up as superheroes who charged through Pattaya's main street.
"We don't think it's directed against us so hopefully we'll be okay," he said before dashing into a go-go bar with friends Superman, Catwoman and "Beer Man."
"I saw blood on the street, so it made me worry," said German tourist Raymond Beel, who canceled a trip to the mountains.
"I think the tourists are safe in this area. But if they go to the protest place then there could be problems," he said.
But Beel, on his 24th trip to Thailand, said he had noticed that while there were still plenty of people around, business had been affected by the global downturn that has weakened western currencies.
"Now in the bars there are only bar girls, no tourists. People are walking around, but not spending money. Where before a guy might have drunk six beers, now he will have only two," he said.
Norton, also a regular visitor to Pattaya with 15 visits under his belt, said he was now forced to haggle with the working girls.
"Haven't they heard of the credit crunch? They think they've got problems, you should see the problems I've got. The pound used to be worth 75 baht and now it's only 50 baht," he said.
The working girls say that bar takings are down as much as 50 percent and that while regular sex tourists are still around, newcomers have been scared away.
Comments will be moderated. Keep comments relevant to the article. Remarks containing abusive and obscene language, personal attacks of any kind or promotion will be removed and the user banned. Final decision will be at the discretion of the Taipei Times.