Malaysian prime minister slams party in last speech
PARTING BLOW Abdullah Ahmad Badawi was quite blunt in his final speech as UMNO chief. But his son-in-law was voted head of the party's youth wing
Malaysia's outgoing Prime Minister Abdullah Ahmad Badawi issued a damning indictment of the ruling United Malays National Organization (UMNO) yesterday, saying it was contaminated by greed, complacency and internal rivalries.
In his last speech to UMNO before handing over the party leadership to his deputy Najib Razak, Abdullah lamented the decay that has set in after 50 years in power.
"We were intoxicated by our own achievements and we became complacent. We believed that we had become all-powerful. We have put our own positions within the party first," he told delegates at its annual meeting.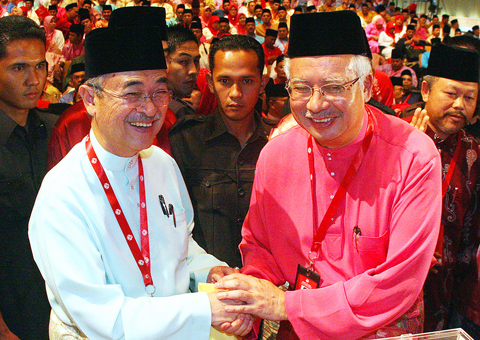 Malaysian Prime Minister Abdullah Ahmad Badawi, left, and his successor Najib Razak shake hands after casting their votes for the deputy president of the United Malays National Organization at its general assembly in Kuala Lumpur yesterday.
PHOTO: AFP
"Materialism has seeped into the party, making a number of party members greedy and avaricious," he said.
Abdullah said that elections a year ago, which handed the opposition control of a third of parliamentary seats in an unprecedented result that effectively ended his career, were a sign that "UMNO's glory has dimmed."
"UMNO faces a life and death situation — one that concerns our future and survival," he said.
The 66-year-old drifted through a lackluster term in power after taking over from prime minister Mahathir Mohamad, who led Malaysia for more than two decades and publicly undermined his successor after the 2003 handover.
Abdullah was punished at the ballot box for failing to implement reforms he had promised, including overhauling the police and tackling corruption, which is endemic in UMNO and Malaysian society.
However, he won some measure of praise for giving more space to free expression after the repressive Mahathir years, and yesterday he warned the party not to resort to a hardline approach.
"If we revert to the old path I believe we are choosing the wrong path, one that will take us to regression and decay. It is a path that I fear will hasten our demise," he said.
Abdullah received a standing ovation, but outside the meeting hall there was a lukewarm reaction to his hard-hitting critique on the ruling party and the Barisan Nasional coalition that it helms.
"Barisan Nasional is still a relevant concept and it has survived over the years very well, all we need is just some house-cleaning,'" said Astaman Abdul Aziz, who is vying for a seat on UMNO's policy-making Supreme Council.
"UMNO members must really heed the call by the PM," he said.
Najib has promised a radical overhaul of UMNO, but commentators say his political baggage — including low popularity ratings and allegations of corruption and links to a sensational murder — will weaken his position.
He faced another setback after Abdullah's son-in-law, 33-year-old Khairy Jamaluddin, seized the position of chief of UMNO's youth wing — a nurturing ground for future leaders — on Wednesday, edging out other candidates, including Mahathir's son.
In another high-profile contest, former Cabinet minister and political veteran Rafidah Aziz was knocked out as leader of UMNO's women's wing, in favor of her deputy Shahrizat Jalil, who is another ally of Abdullah.
Comments will be moderated. Keep comments relevant to the article. Remarks containing abusive and obscene language, personal attacks of any kind or promotion will be removed and the user banned. Final decision will be at the discretion of the Taipei Times.