China closes Tibet to foreign tourists
China has closed Tibet to foreign tourists ahead of next month's highly sensitive 50th anniversary of a failed uprising against Chinese rule, tour agencies and other industry people said on Tuesday.
"Authorities asked tour agents to stop organizing foreigners coming to Tibet for tour trips until April 1," said an employee at a state-run travel agency in Lhasa who did not want to be named for fear of reprisals.
A hotel in the Tibetan capital and three travel agencies in Chengdu that normally organize trips into Tibet confirmed the ban for foreigners during next month.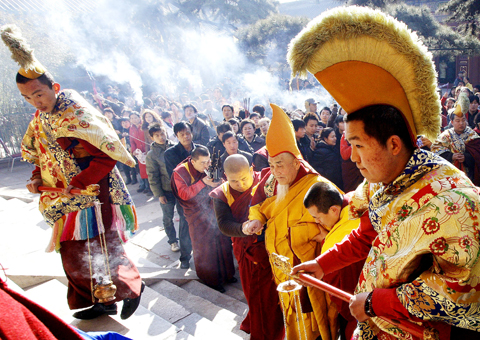 Tibetan monks head into a prayer hall during a ceremony to mark Tibetan New Year at the Lama Temple in Beijing, China, yesterday. Tibetan New Year celebrations are expected to be muted this year.
PHOTO: AP
Chinese authorities have reportedly increased security in Tibet ahead of March 10, which marks the 50th anniversary of a failed uprising against Chinese rule that led to the Dalai Lama fleeing his homeland.
The Dalai Lama called this week on Tibetans to skip festivities surrounding the Tibetan New Year, which began yesterday, saying they would be inappropriate after the Chinese government's heavy-handed crackdown on the protests. Tibetans across the region say they are still in mourning.
Only a handful of pilgrims gathered in Xiahe last weekend at the historic Labrang monastery, normally bustling before the New Year.
"There was a war in Lhasa this year. Lots of Tibetans were killed," one resident murmured, referring to the protests last March and government crackdown.
"There is no New Year festival for us," the woman said.
The Dalai Lama also denounced Chinese-backed celebration plans as "provocations."
The Chinese government has said that 22 people died in last year's protests to commemorate the 1959 uprising against Chinese rule, but Tibetan rights advocates say many more were killed and that monks, nuns and villagers were beaten, fined or jailed.
State media have said that 76 people were sentenced and more than 950 detained.
"This has not been a good year for the Tibetan people," said a sun-wrinkled woman in the town of Zhuoni in Gansu Province. "No mass gatherings are allowed, people have been caught, things have been very strained."
Last week, a Communist Party official in Tibet warned Buddhist clergy against political activity ahead of this year's anniversary.
The Dalai Lama's message on Tuesday called on Tibetans to skip this year's festivities and instead dedicate good deeds to victims of the uprising.
"Since [Tibetans] faced immense difficulties and sufferings, the occasion of this New Year is certainly not a period when we can have the usual celebrations and gaiety," he said.
State TV has shown footage of dancers in bright, traditional Tibetan garb performing under clear skies as the audience — with monks in the front row — applauded.
Women paraded with trays of dumplings and fruit as red lanterns with the Chinese character for "prosperity" bobbed in the breeze.
"The atmosphere welcoming the new year is deepening," a Chinese state TV anchor said earlier this week. "Everyone is praising their happy lives."
A posting on government-run ChinaTibetNews.com described how leaders of the local armed police visited monks at Drepung monastery in Lhasa "to celebrate the holiday with them."
"High-profile celebration of the New Year is part of this strategy to show to the Tibetans, Chinese and the world that everything is normal in China's Tibet," said Dibyesh Anand, a Tibet expert at London's Westminster University.
"Contrary to what the Chinese government has been saying, Tibetans in many parts of China remain restive," he said.
Last week, Tibetan rights groups said, a Buddhist monk shouted slogans outside a market in Lithang, Sichuan province, calling on people to boycott the festivities and praising the Dalai Lama.
Comments will be moderated. Keep comments relevant to the article. Remarks containing abusive and obscene language, personal attacks of any kind or promotion will be removed and the user banned. Final decision will be at the discretion of the Taipei Times.