Early voting begins in Iraq elections
Soldiers, police, prisoners and displaced people began early voting yesterday ahead of Saturday's provincial election in Iraq, which will determine the political landscape across the country as US forces withdraw.
Iraqis held in detention were also expected to take part in the early voting.
US and Iraqi authorities hoped the election would open the political process to more groups and further erode support for extremist networks.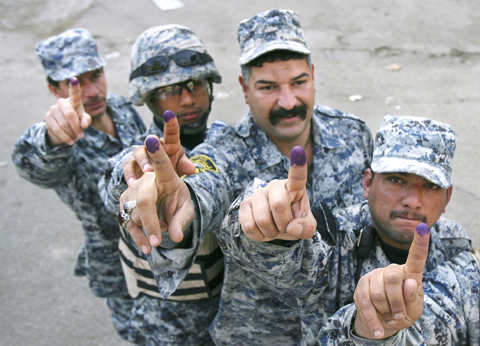 Iraqi policemen hold up their ink-stained fingers after casting their vote in the nation's provincial elections in Baghdad yesterday.
PHOTO: AP
In the Shiiite south, Iraqi Prime Minister Nouri al-Maliki is hoping to win support in provinces long dominated by large rival parties. In other parts of the country, Sunni Arabs, many of whom boycotted the last provincial poll, are seeking a bigger share of provincial power.
The early round of special voting was called to ensure that soldiers and police can all be on duty for a massive security operation during the main election on Saturday, when vehicles will be banned from the streets.
"This is our challenge to every terrorist and to everyone opposed," soldier Abed Khalaf said at a polling station in the northern city of Kirkuk, where the main poll has been delayed indefinitely but troops from other parts of Iraq can vote.
"We came here today and we are not afraid, because an honest person should not hide his head from these groups," he said.
The commander in the area, Lieutenant Colonel Khalil Kamal al-Zobaie, said his men were happy to be voting: "This day is like a wedding for all the army."
In other parts of Iraq there were some signs of confusion.
At the Maqal Prison in the city of Basra, fights broke out between guards and reporters brought inside to film the voting. Several photographers were beaten by guards who accused them of taking pictures that showed prisoners' faces.
Tens of thousands of displaced people were also registered for early voting, although they make up only a fraction of up to 4 million Iraqis believed to have fled abroad or to other parts of Iraq during years of fighting.
Holding a successful election is an important test of the ability of Iraqi troops to keep the peace as 140,000 US troops begin to leave. US President Barack Obama wants to speed up the pace of withdrawal after his predecessor George W. Bush promised to pull out the troops by the end of 2011.
Iraqis have embraced the voting enthusiastically. Some 14,400 candidates, including nearly 4,000 women, have registered to fight 440 provincial council seats. Campaign posters are plastered all over the concrete blast walls that have sprung up throughout the country since the US-led invasion in 2003.
The election campaign so far has not seen a surge in violence feared by US and Iraqi commanders. At least two candidates were assassinated, but overall attacks have remained at among the lowest levels since the war began.
Comments will be moderated. Keep comments relevant to the article. Remarks containing abusive and obscene language, personal attacks of any kind or promotion will be removed and the user banned. Final decision will be at the discretion of the Taipei Times.