FEATURE: Interactive show replays life in the Soviet gulag
As Lithuania's post-Soviet generation comes of age, a local theater troupe is making sure the evils of the communist past are not forgotten.
It is offering a three-hour refresher course — as KGB prisoners.
"These few hours should provide a quintessential Soviet-era experience," said Ruta Vanagaite, producer of the interactive show that runs in a former bunker in Naujasode, 25km from the capital Vilnius.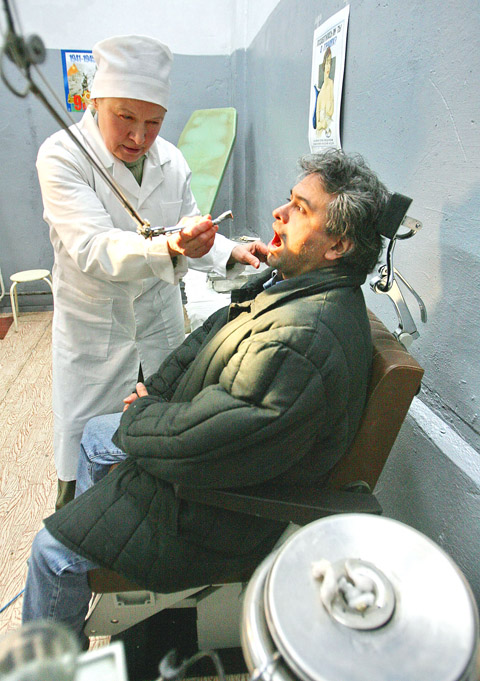 An actor, left, performing as a dentist performs work on a visitor during his visit to the Soviet Adventure Park 1984 in Naujasode, about 25km from the Lithuanian capital Vilnius, on May 3.
PHOTO: AFP
"By the end visitors should feel how, under a totalitarian regime, they are nothing," she said. "They should realize how much progress there's been over the past 17 years."
Before heading 4m underground, participants begin a journey back in time by swigging a cup of ersatz coffee and donning a fufaika, the quilted cotton jacket worn by prisoners in the Soviet gulag.
From then on, the curious tourist is treated as a simple "comrade-prisoner" — obliged to respond to barked questions and commands from a half-dozen actors with a simple yes or no.
After saluting the Soviet flag, participants are made to perform physical exercises, such as squatting, running and rolling in a blanket while wearing a gas mask.
The ryhthm is dictated by an actor in KGB uniform, who screeches orders in Russian as his German shepherd dog strains on its leash.
The Orwellian show is set in 1984, and takes place in a bunker that until 1991 housed emergency radio and TV transmitters which were meant to be used if a NATO attack knocked out other Soviet facilities.
Lithuania, which was occupied by the Soviet Union during World War II, declared independence in 1990 and won international recognition a year later as the Soviet bloc crumbled.
In the early years, Soviet rule was notoriously brutal.
Some 360,000 Lithuanians were jailed, killed or deported to the gulags of Siberia and central Asia in the 1940s and 1950s.
In later decades, lower-level repression became the norm, although in a last gasp the Soviet regime cracked down on the Lithuanian independence movement in January 1991, killing 14 civilians.
Today's Lithuania is a democratic, free-market nation with previously unimaginable opportunities for a new generation in its population of 3.4 million — notably since EU membership in 2004 opened the road for tens of thousands to work abroad.
For Lithuania's teenagers, 20 and 30-somethings, the Soviet era is a non-existent or distant memory, while a swathe of older people who missed out on the benefits of change are nostalgic for the relative economic security.
"Half the population of this country misses the Soviet period and around half a million young Lithuanians never lived through it," Vanagaite said.
In the bunker, visitors are forced to sit through Soviet-style May Day speeches, littered with praise for global communism and homages to steelworkers and the people of Cuba.
They are also treated to a medical check-up, where a doctor threatens to use a vintage dental drill on them.
The most unpleasant part of the show, however, is still to come.
The entire group of about 30 visitors is made to face the wall with their hands up, then a male participant is picked out.
In a booming voice, an actor playing a KGB interrogator browbeats the hapless individual into confessing that he has stolen from the factory where he works — an act of "anti-Soviet sabotage."
Trying not to crack under pressure, or even attempting outright resistance, is a bad idea: The bunker has its own solitary confinement cell.
The tension only falls towards the end, as the "released" visitors are allowed to visit a Soviet-style store and leave with a toilet roll that is a soft as sandpaper.
Students make up a large percentage of the bunker's visitors, although they are given a toned-down version of the show.
Adults have to sign a disclaimer which informs them that they risk verbal abuse and will have to perform physical exercise.
After the show, visitors are treated to an ultra-Soviet supper of tinned beef and a glass of vodka.
"I was curious to get taken back to this period, but for me it was really just a show, because I've drawn a line under the past," said Lina, an accountant who was in her early teens when Lithuania won its independence.
Jolanta, a teacher in her forties, added: "Young people must come here to feel even a little bit of what we went through."
Comments will be moderated. Keep comments relevant to the article. Remarks containing abusive and obscene language, personal attacks of any kind or promotion will be removed and the user banned. Final decision will be at the discretion of the Taipei Times.