Fukuda plays catch with Wen
PLAY BALL Responses in Japan to warming Beijing-Tokyo ties ranged from the celebratory to requests that China drop anti-Japanese discourse in its schools
Japanese Prime Minister Yasuo Fukuda enjoyed a round of baseball diplomacy with his Chinese counterpart Wen Jiabao (溫家寶) yesterday, one day after the leaders pledged to build on their rapidly warming ties.
Fukuda and Wen smiled in front of the cameras while playing catch with a baseball following a breakfast meeting on the third day of the Japanese leader's landmark visit to China.
Fukuda held talks with Wen and President Hu Jintao (胡錦濤) on Friday to lay the groundwork for closer cooperation between the countries in trade, climate change and other fields, but a dispute over maritime gas fields remained unresolved.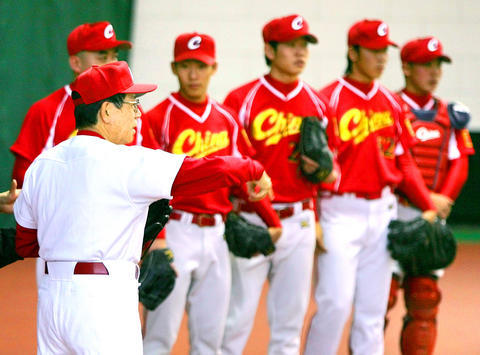 Japanese Prime Minister Yasuo Fukuda, left, stands near a group of Chinese baseball players before a game of catch with Chinese Premier Wen Jiabao at the gymnasium in Beijing's Diaoyutai State Guesthouse yesterday.
PHOTO: AFP
"I have asked Prime Minister Wen to play catch with me," Japanese officials quoted Fukuda as telling Wen during a meeting on Friday.
"I'm glad to play with you whenever," Wen replied, prompting laughter by diplomats of the two countries.
Fukuda is on a four-day visit aimed at deepening ties between the two Asian giants that has long been wracked over Japan's World War II invasion of China.
In Friday talks, the two countries agreed to continue to negotiate a territorial dispute over lucrative gas fields in the East China Sea and raise discussions to the vice-ministerial level in order to bring a "quick" solution.
Prior to his trip, Fukuda had expressed hopes that the resolution of the dispute could be reached during the visit.
Eleven rounds of negotiations on the gas fields since 2004 have made little progress, with China rejecting the maritime border which Japan considers a starting point for discussions.
After departing Beijing yesterday, Fukuda was scheduled to visit Tianjin before a trip to the ancestral home of ancient Chinese philosopher Confucius (孔子), in Qufu city in Shandong Province.
In Tianjin, Fukuda will inspect Japanese investments, including a Toyota Motor Corp plant and have lunch with the city's Communist Party boss Zhang Gaoli (張高麗) and Mayor Dai Xianglong (戴相龍).
China cut high-level contacts with Japan during Junichiro Koizumi's terms as prime minister from 2001 until last year over his visits to Tokyo's Yasukuni shrine, which venerates war criminals who invaded China, alongside another 2.5 million war dead.
Fukuda -- whose father, late prime minister Takeo Fukuda, signed a landmark friendship treaty with China in 1978 -- and his predecessor, Shinzo Abe, have stayed away from the shrine, paving the way for the dramatic thaw in bilateral relations.
In Japan, newspapers yesterday applauded the thawing of ties between Japan and China.
The influential Asahi Shimbun hailed the four-day trip as successful and pointed to a "leap forward" in bilateral ties between the Asian powers.
"The time has come when we can talk about the `leap forward,'" the newspaper said in an editorial referring to a phrase that Fukuda has used.
The leading business Nikkei Shimbun was more skeptical.
Although it agreed "top-level diplomacy" appeared back on track, it lamented that "the pending issue over gas fields has been virtually put off."
"It is regrettable that the issue was not solved by the top leaders," it said.
"Although nearly 5 million people from Japan and China visit each other's country every year nowadays, mutual confidence in a true sense has not been enhanced," the Nikkei said. "We wish to see a first step in a `leap forward' in Japan-China relations through steady exchanges at various levels."
The mass-circulation Yomiuri Shimbun said both countries should find "mutually acceptable ideas" on the gas field issue, including areas where they can jointly develop gas, before Hu visits Tokyo next year.
The conservative Sankei Shimbun called on both countries to build an "irreversible, sustainable, genuine reciprocal relationship" and questioned China's commitment to improved relations.
It demanded China stop "anti-Japanese education," pointing to an increase in exhibits at a Chinese museum emphasizing the brutality of Japanese troops during their aggression in China.
"There is a question mark over China's true intentions," it said.
Comments will be moderated. Keep comments relevant to the article. Remarks containing abusive and obscene language, personal attacks of any kind or promotion will be removed and the user banned. Final decision will be at the discretion of the Taipei Times.