Venezuelan court seizes RCTV's equipment for state
COURT ORDER President Hugo Chavez rejected allegations that he is threatening freedom of expression, accusing RCTV of supporting a failed 2002 coup d'etat
Venezuela's Supreme Court ruled that broadcasting equipment and infrastructure used by a television channel critical of leftist President Hugo Chavez must be made available to the state-run TV channel that will replace it.
The Supreme Court said on Friday on its Web site that Venezuela's telecommunications commission would assume responsibility for Radio Caracas Television's (RCTV) equipment, including microwave dishes and antennas, while the court reviews RCTV's appeal of Chavez's decision not to renew its licence.
The court also ordered the military to temporarily guard the equipment used by RCTV, Venezuela's most widely watched channel, which is scheduled to go off the air at midnight tonight.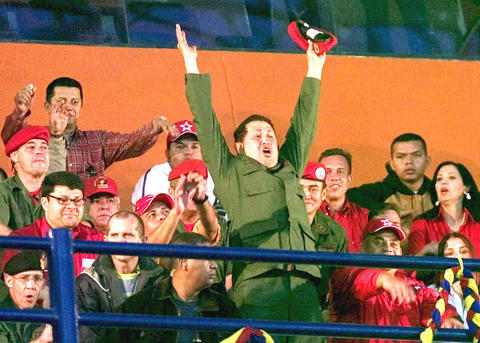 Venezuelan President Hugo Chavez, center, cheers before a friendly soccer match between Venezuela and Honduras in Merida, Venezuela, on Friday.
PHOTO: EPA
The decision came hours after a convoy of troop carriers, motorcycles and armored anti-riot vehicles patrolled the highways of Caracas in what authorities called an effort to deter any disturbances by opposition demonstrators.
Chavez defends the decision not to renew RCTV's licence as a legal move to democratize the airwaves by reassigning RCTV's licence to a public service channel, while critics call it an attempt to silence criticism of the leftist president.
RCTV's general manager, Marcel Granier, said Friday's high court ruling is the product of "the immense pressure the government has put on magistrates" to guarantee that RCTV is shut down as planned.
"This equipment belongs to RCTV," he said.
Earlier on Friday, talk show host Miguel Angel Rodriguez, whose program is a daily rant against Chavez, ended his segment by blowing a kiss to the camera and saying defiantly: "There is no goodbye. It's `see you later.'"
Information Minister Willian Lara has said the new channel, TVES, will start broadcasting in every corner of Venezuela early tomorrow, raising suspicions among Chavez opponents who said the new channel does not have the necessary equipment to reach nationwide.
In a speech on Friday that Venezuela's private TV channels were obliged to broadcast, the president rejected allegations that his decision threatens freedom of expression.
"There is no country in the world where there is so much freedom of expression," he said. "The license expires at midnight on May 27, and it's not going to be renewed."
Chavez accuses RCTV and other opposition-aligned private media of supporting a failed 2002 coup against him.
Inside the studios of RCTV, the mood was somber yet defiant, with some employees wearing T-shirts reading "No to the closing."
"There is a lot of uncertainty. It's very hard," technician and 22-year RCTV veteran Alejandro Gonzalez Natera said, wiping away tears as he spoke.
Dozens of protesters wearing bandanas over their faces held a rowdy demonstration to back the RCTV shutdown late on Friday outside the privately owned Globovision TV channel, spray-painting the building with pro-Chavez slogans.
Comments will be moderated. Keep comments relevant to the article. Remarks containing abusive and obscene language, personal attacks of any kind or promotion will be removed and the user banned. Final decision will be at the discretion of the Taipei Times.