Cambodia's `jungle woman' trying to escape
TIRED OF CIVILIZATION Villagers in Oyadao have turned the family's hut into the must-see attraction, with dozens of locals and journalists stopping by to peer inside
Cambodia's "jungle woman" seemed to be tiring of civilization and has repeatedly tried to escape back into the wild where she lived for nearly two decades before being discovered last week, her presumed brother said yesterday.
"Last night, she tried some tricks to run back to the jungle," said Rochom Khamphi, who has claimed Rochom P'ngieng as his long-lost older sister.
He said his sister -- who does not speak any intelligible language and only uses hand signals to indicate her basic needs -- indicated she wanted to go outside to relieve herself and then made a break for freedom.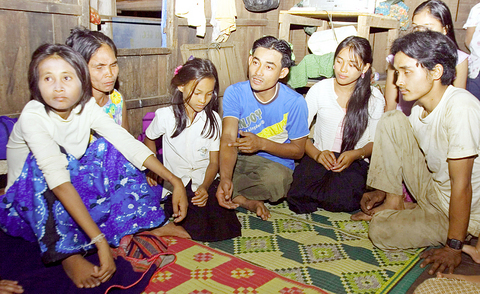 Rochom P'ngieng, left, sits together with the people who claim to be her siblings, at their rural home in Oyadao, Rattanak Kiri Province, about 660km north east of Phnom Penh, Cambodia, on Friday.
PHOTO: AP
"On the second visit to toilet, she removed her shirt ... and was about to make a move to run," he said.
He said his mother managed to grab her and called out for the rest of the family to help bring her back into the house.
But inside the house, the woman refused to sleep and made several moves toward the front door, Rochom Khamphi, 25, said, adding that the entire family was "sleepless the whole night" because they had to guard her.
Rochom P'ngieng, now believed to be 27, disappeared in the jungle of Rattanakiri Province in Cambodia's northeast while herding water buffaloes when she was 8 years old, according to Sal Lou, who has claimed the woman as his daughter.
Her family says she was found on Jan. 13 walking like a "monkey" out of the jungle. But since then, she continues to mesmerize villagers in Oyadao town, about 70km east of the provincial capital.
Villagers in Oyadao, a town of 100 people, have simply dubbed her "jungle woman" and turned the family's hut into the must-see attraction, with dozens of locals and journalists stopping by to peer inside for a look at her.
Unable to communicate in a language the villagers understand, Rochom P'ngieng's whereabouts the past two decades remain unclear.
Many questions remain about the circumstances of her disappearance and what happened to her, said Mao San, police chief of Oyadao District.
"I suspect there may be a family or someone out there still alive that might have gotten hold of her the whole time," he said on Saturday.
"I still have many questions unanswered," he said.
"We would like to have blood taken for DNA testing to ascertain the case. Only by that can we end the suspicion," he added.
Comments will be moderated. Keep comments relevant to the article. Remarks containing abusive and obscene language, personal attacks of any kind or promotion will be removed and the user banned. Final decision will be at the discretion of the Taipei Times.