Malaysian analyst pleads innocent to murder charge
MEDIA FRENZY Abdul Razak Baginda, who has close ties to Malaysia's ruling party, could face the death penalty if found guilty in a murder case that has gripped the nation
A prominent political analyst with close ties to Malaysia's ruling party pleaded innocent yesterday to the charge of abetting the murder of a Mongolian woman, whose body was reportedly blown up by explosives.
Abdul Razak Baginda, 46, took the plea at the Kuala Lumpur High Court and demanded a trial, which will begin on Dec. 14 in Shah Alam, the state capital of neighboring Selangor State where the murder was allegedly committed last month.
If found guilty, Abdul Razak faces the death penalty. Two policemen have separately been charged with murdering the woman, Altantuya Shaariibuu, a 28-year-old model, teacher and translator.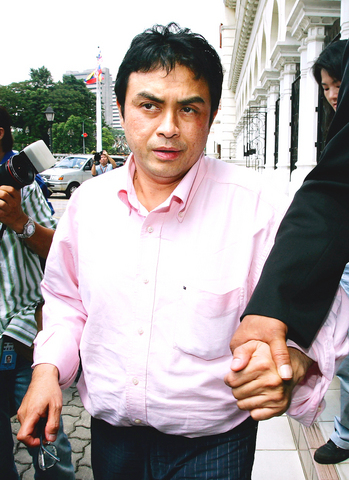 Abdul Razak Baginda leaves the High Court after being freed on bail in Kuala Lumpur, Malaysia, yesterday. Abdul Razak, a prominent political analyst with close ties to Malaysia's ruling party, pleaded innocent yesterday to a charge of abetting the murder of a Mongolian woman.
PHOTO: AP
The two -- Chief Inspector Azilah Hadri and Constable Sirul Azhar Umar -- are part of an elite unit tasked with VIP protection, and both also face the death penalty if convicted. They have not entered a plea yet.
The case has gripped the nation and whipped up media a frenzy unseen in recent times because of the involvement of Abdul Razak, who runs a think tank and is known to be close to the ruling party, as well as Malaysia's deputy prime minister.
Malaysian Prime Minister Abdullah Ahmad Badawi has pledged a thorough investigation, while the country's police chief promised there would be no cover up.
The local press has reported Abdul Razak had an affair two years ago with Shaariibuu, but his lawyer has insisted there was no romantic relationship.
According to prosecutors he conspired with Azilah and Sirul on Oct. 18 to kill Shaariibuu sometime between the night of Oct. 19 and early Oct. 20.
Prosecutors have not said how Abdul Razak knew the policemen or what their motive was in killing Shaariibuu.
Police DNA tests have confirmed that human remains found in a jungle clearing outside Kuala Lumpur earlier this month were Shaariibuu's. The local press has reported she was shot twice and her body blown up with explosives.
Police have released few other details of the case. Mongolia's honorary consul to Malaysia, Abdul Rahman Alhabshi, has said Shaariibuu came to Malaysia last month, but hasn't said why.
The Star newspaper reported on Wednesday that Shaariibuu was married twice to Mongolian celebrities and had two children.
It said she trained as a model but never worked professionally.
Abdul Razak is a member of the World Economic Forum's Global Leaders for Tomorrow, and of the London-based International Institute for Strategic Studies.
Comments will be moderated. Keep comments relevant to the article. Remarks containing abusive and obscene language, personal attacks of any kind or promotion will be removed and the user banned. Final decision will be at the discretion of the Taipei Times.