Congo vote hailed a success despite violence
Rioting mobs destroyed polling stations in Congo's east and electoral officials organized a revote over burned ballots in the north, yet much of the war-scarred Central African country called the landmark presidential vote a success as the colossal task of counting ballots began.
The tense election pitted Congo's youthful president against a former rebel chief in a vote that many hoped would usher the country into democracy after more than 40 years of dictatorship and war. But there are also fears the vote would ignite a return to war, four years after a 1998-2002 war that pulled in armies from more than half a dozen African nations.
On Monday, a day after the vote, mobs in the northeastern border town of Fataki destroyed 43 polling stations and the ballots stored within after a soldier killed two electoral workers in the early morning.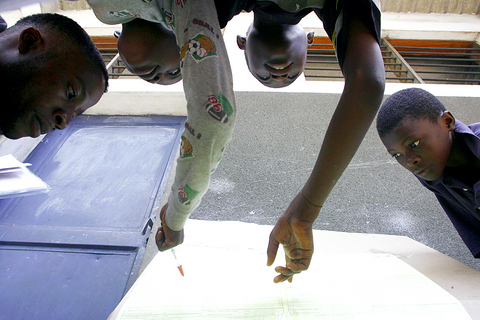 A group of local residents check early results in front of a polling station in Kinshasa on Monday, a day after the second round of voting in the presidential election in the Democratic Republic of the Congo.
PHOTO: AFP
UN spokesman Leocadio Salmeron said it was unclear what prompted the army sergeant to shoot, but said the soldier appeared to be drunk. The soldier was arrested by police, but the population rose up over the incident, Salmeron said.
UN Secretary-General Kofi Annan congratulated the people of Congo on the "generally free and calm environment" during the elections but expressed concern at the violent incidents in Equateur Province and near Bunia in Ituri District, UN deputy spokesperson Marie Okabe said.
He welcomed the signing by representatives of Congolese President Joseph Kabila and former rebel leader Jean-Pierre Bemba on Sunday "of a declaration of intent regarding their conduct following the elections, which is an important step in ensuring that the electoral process is successfully concluded in calm and secure conditions," she said.
"The secretary-general calls on the presidential candidates and their supporters to exercise patience and restraint, and to take all possible steps to prevent any acts of violence while waiting for the results to be announced by the Independent Electoral Commission," Okabe said.
Elsewhere polling stations posted tallies and election workers prepared to go home after spending two nights at their posts. In Kinshasa, where problems collecting and counting millions of ballots in the first round left the final tally open to criticism, the UN commandeered trucks and cars from its various agencies to pick up votes and bring them to one of 14 collection centers.
At least one person died on Sunday when protesters who suspected ballot tampering ransacked a dozen polling stations and clashed with security forces in the northwest town of Bumba. The looted polling centers were scheduled to reopen yesterday to give voters another chance.
International observers sounded optimistic, saying the violence in Fataki and Bumba was not the norm.
"There does not appear to be a trend of either intimidation or violence. One could almost say the opposite," said Joe Clark, former Canadian prime minister and head of the Atlanta-based Carter Center's observing team.
Vote counting began late on Sunday, with electoral workers tallying ballots by battery-powered lanterns and candlelight. Some stations posted their local results as early as 11pm. But overall results are not expected for several days.
Comments will be moderated. Keep comments relevant to the article. Remarks containing abusive and obscene language, personal attacks of any kind or promotion will be removed and the user banned. Final decision will be at the discretion of the Taipei Times.