Japan holds earthquake preparedness exercises
A US warship ferried commuters to safety and firefighters blasted water from fire hoses as nearly 1 million people joined nationwide in earthquake preparedness drills yesterday on the anniversary of a temblor that wiped out Tokyo in 1923.
Japanese Prime Minister Junichiro Koizumi held a video-teleconference with Tokyo's governor and the Central Bank chief in a simulated response to a 7.3-magnitude quake in the capital, a disaster that could kill an estimated 11,000 people.
This year's installment of the annual drill also marked the first time that members of the US military in Japan participated, although the US has given permission to Japanese officials to use its air base for drills since 2001.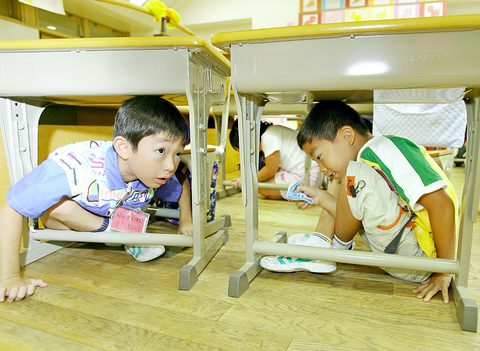 Elementary school students crouch under their desks yesterday as part of a nationwide earthquake drill. Nearly 1 million people across Japan took part in the annual drills and were joined by troops from the US and firemen from South Korea.
PHOTO: AFP
Two helicopters were to be dispatched to transfer emergency goods from the US military's Yokota Air Base in western Tokyo to the central Tokyo, according to Tokyo Metropolitan Government official Toshio Kikuchi.
The US military also sent a frigate to Tokyo Bay in an exercise to ferry commuters, Kikuchi said, adding that about 3.9 million people in Tokyo would be unable to return home immediately after a big quake.
Firefighters from South Korea were to take part in rescue operations in a Tokyo residential area, he added.
"I ask the people of Japan to remain calm in this major disaster and ask you to help rescuing others and putting out fires," Koizumi, in a blue work uniform, told a mock news conference.
About 800,000 people across Japan, including more than 70,000 in the capital area, took part in the drills.
The drills are held every year in to commemorate the 1923 Great Kanto Earthquake, which in Tokyo had a magnitude of 8.3 and killed more than 140,000 people.
The preparedness drills in Tokyo were held based on the scenario of a magnitude 7.3 quake striking the city and its surrounding suburbs at 7:15am yesterday.
The drills come as officials are strengthening preparations in case of the dreaded "big one" hits Tokyo and its surrounding area -- a region that is home to about a quarter of Japan's population of 127 million.
In the central Japanese prefecture of Shizuoka, about 640,000 people took part in mock exercises based on a magnitude 8 quake hitting the region early in the morning, according to Shizuoka officials. Experts say that a major quake is overdue in the area surrounding Shizuoka, which is 150km west of Tokyo.
Japan is one of the world's most earthquake-prone nations, and Tokyo has a 90 percent chance of being hit by a major quake over the next 50 years, officials say.
On Thursday, a 4.8-magnitude earthquake jolted the Tokyo region, but there were no injuries or damage.
In 1995, a magnitude-7.2 quake in the western port city of Kobe killed 6,400 people.
Comments will be moderated. Keep comments relevant to the article. Remarks containing abusive and obscene language, personal attacks of any kind or promotion will be removed and the user banned. Final decision will be at the discretion of the Taipei Times.