Thousands pay respects to late Maori queen
Bare-chested warriors in canoes brought the late queen of New Zealand's indigenous Maori to her burial site as haunting notes rang out from conches yesterday, hours after tribal elders named her son as the new monarch.
The events were the culmination of a six-day national mourning period for Queen Te Arikinui Dame Te Atairangikaahu, who died last Tuesday at age 75. Thousands of people have paid their respects for the beloved monarch.
The casket bearing the queen was paddled for several kilometers down the Waikato River in a canoe by warriors in long grass skirts for burial on sacred Taupiri Mountain.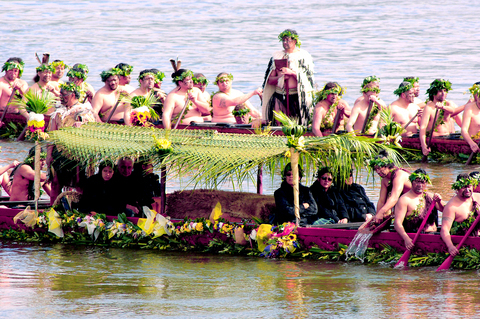 Bare-chested Maori warriors paddle a canoe bearing the coffin of Maori Queen Te Arikinui Dame Te Atairangikaahu down the Waikato River between Ngaruawahia and Taupiri Mountain in Hamilton, New Zealand, yesterday.
PHOTO: AP
Tribal leaders named the late queen's eldest son, Te Arikinui Tuheitia Paki, as the new Maori king.
King Tuheitia Paki is the seventh Maori monarch from the same family -- a line of sovereigns stretching back to 1858 when Maori selected their first king to unite their tribes as they struggled to retain ownership of their land amid an influx of British immigrants to the then-English colony.
Wearing his mother's feather cloak, Paki, 51, was sat on an ornate carved wooden throne beside her casket shortly before the funeral service began in Ngaruawahia village on North Island.
In his coronation ceremony, he was touched on his head with a Christian Bible in a royal tradition -- the same Bible used to crown the six previous Maori monarchs.
Moments before his crowning, a crowd of thousands was asked whether he should be king. "Ai [yes]," they replied.
Until yesterday a university senior manager and cultural adviser, King Tuheitia has a wife, Te Atawhai, and three children.
Following Maori tradition, the new monarch was named ahead of the start of the queen's funeral ceremonies at Turangawaewae Marae, the tribal meeting place, in Ngaruawahia Village after being chosen by tribal leaders in secret meetings in recent days.
In the funeral procession, a dozen canoes representing all Maori tribes paddled down the river with her casket.
Teams of eight warriors, heads wrapped with mourning wreaths made of leaves, carried the queen's casket shoulder-high from the flax-covered bier up the rugged mountainside to the summit. Ahead of them, teams of young men with ropes attached to the coffin helped lift it up the steep slopes.
Thousands of people lined the foot of the mountain and route to the summit, wailing karakia (mourning calls) and haka (war chants) as the coffin passed, followed by the queen's close family.
The ceremonies were broadcast nationwide on television.
At the funeral service, messages of condolence were read from Britain's Queen Elizabeth II, her son Prince Charles, Pope Benedict XVI and several Pacific Island leaders.
"Dame Te Ata gave a lifetime of service and dedication," Queen Elizabeth said in her message. "Her leadership, dignity and compassion will long be remembered."
Prime Minister Helen Clark was among dignitaries at the service.
Afterward, as the late Queen Te Ata's coffin was closed by attendants, three white doves were released, signifying her departing spirit.
One dove sat on the ground, only flying away after the coffin lid had been closed -- seen by Maori mourners as a sign of the reluctance of their queen to leave them.
Comments will be moderated. Keep comments relevant to the article. Remarks containing abusive and obscene language, personal attacks of any kind or promotion will be removed and the user banned. Final decision will be at the discretion of the Taipei Times.