New Zealand recalls unrest sparked by sport
BLOOD SPORT In July 1981, South Africa's Springboks arrived in the Shaky Isles for a rugby tour which triggered off two months of mayhem in the multicultural country
Twenty-five years ago, New Zealand was swallowed by unrest sparked by sporting contacts with apartheid South Africa.
The arrival of the South African Springboks rugby team on July 19, 1981, kicked off two months of mayhem in the country set in the South Pacific and peopled by quiet, conservative men and women.
New Zealand was racked by argument and violence, fear and dissent at a level not seen since indigenous Maori tribes fought European colonists more than a century earlier.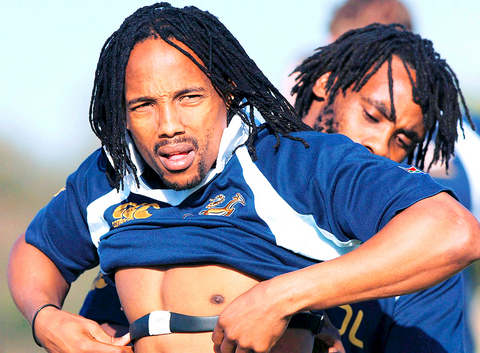 Members of the South African Springboks during a training session in Brisbane yesterday, ahead of their Tri-Nations match against Australia on Saturday. The formerly all-white team sparked off riots when they played in New Zealand in 1981.
PHOTO: EPA
It saw the nation divided, setting neighbor against neighbor, friend against friend, brother against brother and father against son. To this day, debate on the issue can revive bitter family arguments.
It saw children and grandmothers joining protest groups that opposed helmet-clad police in riot gear and wielding long batons. It saw 150,000 New Zealanders take to the streets and mount a campaign of civil disobedience on a massive scale
It saw airports, motorways and bridges blocked, television trans-mitters sabotaged, running battles in streets barricaded with barbed wire and more than 2,000 people arrested by the biggest regular and volunteer police force ever mounted in the country.
"It was like a war," Member of Parliament Marian Hobbs said this week, recalling the "fierce hatred" and adding, "Things you thought only happened overseas were happening in our own country. The fact that no one died was more luck than anything else."
A nation in which white Europeans had long lived harmoniously with brown Maoris and Pacific Islanders was brought to flashpoint by conflict between a national passion for the sport of rugby and an innate sense of fairness in a multicultural and multiracial society.
The flames were fanned by the prime minister of the day, Robert Muldoon, a diehard conservative who saw votes in pandering to New Zealanders' near-religious devotion to rugby and their desire to see an epic clash with their traditional rivals despite South Africa's racist apartheid regime.
To rugby fanatics, there was no debate. Politics, they said, should be kept out of sport.
But thousands more ardently believed that multiracial New Zealand -- which had prompted a boycott by 26 black nations of the 1976 Montreal Olympics by sending the All Blacks to South Africa -- should have nothing to do with the all-white apologists for apartheid and were prepared to stand up and be counted.
"If I'd thought New Zealanders were going to be bludgeoned by riot police, then I would have said ... `Jesus, the philosophical argument is not worth the blood of Kiwis,'" Aussie Malcolm, the then-minister of immigration, who personally approved the visas for the South Africans, said later.
The games were played at rugby grounds barricaded with barbed wire and resembling war zones. The scene was set at the first match on July 22 in Gisborne when a vehicle evaded a police cordon to drive around the grounds as protesters spread broken glass on the pitch.
Three days later, hundreds of protesters invaded a field in Hamilton, and the outnumbered police, told that a tour opponent had stolen a light aircraft and was threatening to crash it into the grandstand, called the game off.
"New Zealander turned against New Zealander that night," recalled veteran journalist Geoff Chapple, who wrote the book 1981: The Tour.
"Animal guts in your letterbox, milk bottles through your window, obscenities on your house, death threats through your phones, shop windows smashed, an ambulance wrecked," he said.
"You defended your turf that night with baseball bats. Pro-tour people invaded and wrecked houses, left anti-tour people unconscious on the lawns," he said.
Things went from bad to worse as the tour progressed. Police laid into 2,000 protesters outside parliament in Wellington, where "the batons started flailing and the air was filled with the sound of wood whacking unprotected bones and flesh," the Evening Post reported.
The rugby tour ended, eight weeks after it began, with violent scenes in Auckland, where cars were overturned in the streets as a light aircraft buzzed the stadium, dropping flour bombs on the players.
New Zealanders on both sides claimed victory, rugby fans pointing out that only one game was canceled and the protesters saying they had put an unprecedented international spotlight on sporting contact with the apartheid regime.
The Springboks did not leave South Africa again until apartheid was ended and president Nelson Mandela, who had been incarcerated under apartheid, later personally thanked New Zealanders for their contribution to ending it.
He was quoted as saying that when he heard about the protests in New Zealand, "The sun shone through the dark corridors of the cells."
Comments will be moderated. Keep comments relevant to the article. Remarks containing abusive and obscene language, personal attacks of any kind or promotion will be removed and the user banned. Final decision will be at the discretion of the Taipei Times.