Singapore dissident rejects bitterness in favor of truth
In the twilight of his life, a former leftist activist who was arrested in 1963 on suspicion of plotting violent acts and detained without trial for 17 years says he bears no ill will toward Singapore.
"I don't have this sense of vengeance or feel bitter about what happened to me. Singapore is my country, I love it," said Said Zahari, an ailing 78-year-old who lives in Malaysia. "I only wish that it will become a more open society."
Said also wants young Singaporeans to get another perspective on the often tumultuous events that shaped the road to independence in 1965 and Singapore's first decades of nationhood under the ruling People's Action Party.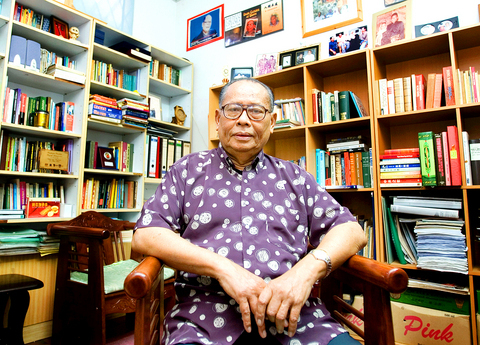 Said Zahari, a former leftist activist, sits in front of his library at his home in Kuala Lumpur on March 25.
PHOTO: AP
The party, gearing up for parliamentary elections soon, still dominates. Former prime minister Lee Kuan Yew (李光耀), the man who led the party at the time of Said's arrest, remains a powerful force in politics. He transformed Singapore into a regional center for finance and manufacturing while maintaining a tight grip on society and politics.
Said has written a memoir about life as a political prisoner. A Malaysian publisher will launch the English-language version of the book in Malaysia next month.
Said wants his book to be distributed in Singapore, and a previous political memoir by him is available in at least one Singaporean bookstore and the national library. In a statement, A.R. Madeei, assistant director of publications at the state Media Development Authority, said Said's book, like all imported publications, would be "subject to the laws of the land."
Such laws include prohibitions on publications deemed objectionable on moral, racial or religious grounds or detrimental to Singapore's national interests.
"The book deals mostly with our lives in prison, those political detainees arrested together with me, and others following that," Said said in a telephone interview from Malaysia.
He said some detainees were beaten and deprived of sleep for days, and that he and other inmates held a three-month hunger strike.
"I wanted the younger generation of Singapore to know the other side of history," he said.
Singapore's longest-serving political prisoner, Chia Thye Poh, was jailed without trial for 23 years from 1966 for alleged communist activities. International rights groups often protested the detention.
Britain gave self-government to Singapore in 1959. In the early 1960s, authorities arrested left-wing politicians, trade unionists and Chinese students involved in strikes and rallies, accusing them of being violent subversives planning a communist state.
Said was detained on Feb. 2, 1963, hours after he was appointed president of a left-wing party.
Singapore, which was planning a merger with what later became Malaysia, said the swoop was aimed at individuals threatening to use violence to sabotage the proposed amalgamation. The detainees were jailed under a colonial-era law allowing detention without trial.
Said, who denied the accusations, was held for years, sometimes in solitary confinement, after the merger failed in 1965 and Singapore became independent.
He also missed the birth of his youngest daughter and when his wife had breast cancer.
"Those were the days when I felt so horrible to see things happening outside, things happening to my wife that I couldn't do anything about," said Said, his voice low and gravelly.
Said was released in 1979, at age 51. A stroke in 1992 left him reliant on a walking stick and prompted his move to Malaysia, where his children had relocated.
There, he began his memoirs. The Long Nightmare: My 17 Years in Lee Kuan Yew's Prison, is the second installment of a planned trilogy he is writing in the book-lined study of his home in Subang Jaya near Kuala Lumpur.
Comments will be moderated. Keep comments relevant to the article. Remarks containing abusive and obscene language, personal attacks of any kind or promotion will be removed and the user banned. Final decision will be at the discretion of the Taipei Times.