Thaksin rejects resignation calls, protests
BANGKOK RALLIES The Thai prime minister hit the campaign trail among rural supporters, while the army insisted its days of coup d'etats were all over
Thai Prime Minister Thaksin Shinawatra dismissed calls for his resignation yesterday, heightening tension after thousands of anti-government activists marched to his office and vowed to rally every day until he steps down.
"I will not resign because my resignation will not resolve anything," Thaksin told reporters.
The commander in chief of the army, meanwhile, sought to ease speculation of the army intervening and staging a coup, as it did in 1992 and more than a dozen other times during earlier political crises.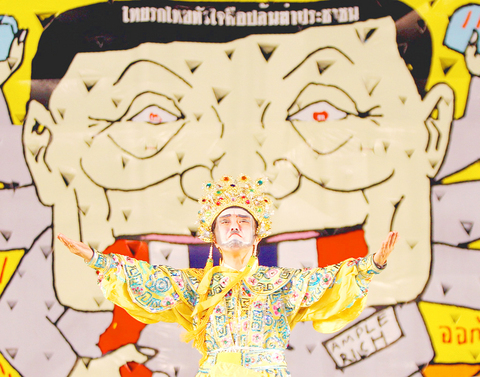 A performer acting as Thai Prime Minister Thaksin Shinawatra entertains the crowds in a Chinese opera in front of a large poster of Thaksin eating a Thai flag during a rally by tens of thousands of people at the Sanam Luang royal park in Bangkok on Sunday.
PHOTO: EPA
"The army will not get involved in the political conflict. Political troubles should be resolved by politicians," said General Sondhi Boonyaratkalin, echoing comments of other top military officials. "Military coups are a thing of the past."
At least 100,000 protesters filled the streets around Government House on Sunday and stayed until well past midnight following a boisterous rally. Some 2,000 remained early yesterday and vowed to regroup in larger numbers later in the day.
Thaksin said he had not personally followed the events of the rally but was informed by aides that protesters "were insisting on ousting me." He left Bangkok early on Sunday to campaign in the northeast for snap elections he has called for April 2.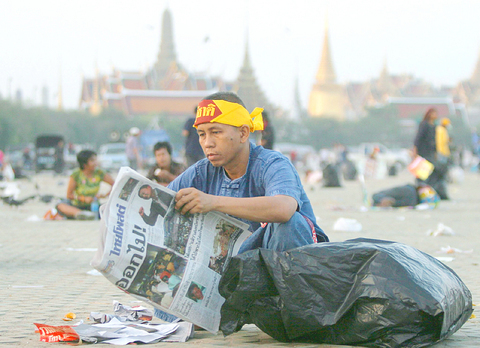 An anti-Thaksin protester reads a newspaper in Bangkok's Sanam Luang royal park yesterday morning after tens of thousands of people rallied against Prime Minister Thaksin Shinawatra on Sunday night.
PHOTO: EPA
"As long as the people support me, I will still work because that is how a democracy works," Thaksin told a cheering crowd of supporters in northeastern Khon Kaen Province yesterday.
Tens of thousands of protesters have been demanding his resignation at regular weekend rallies in recent months, putting him on the defensive and leading to the country's biggest political crisis since 1992, when street protests forced the ouster of a military backed government.
The anti-Thaksin campaign swelled last month after the prime minister's family sold its controlling stake in telecom giant Shin Corp to a Singapore state-owned investment company netting 73.3 billion baht (US$1.9 billion). Critics allege the sale involved insider trading and tax dodges.
A group of activists seeking to have the elections declared unconstitutional had filed a petition to Administrative Court. But the court, which handles complaints against state bodies, said yesterday that it was unqualified to accept the petition, said Ampol Singakowin, the court's spokesman.
Meanwhile, in rural areas, where about two-thirds of Thailand's 63 million people live, Thaksin's popularity remains untarnished. In the country's vast and populous rice-farming heartland, it approaches adoration. Farmers and owners of small businesses say their lives have been transformed and that their incomes have doubled during Thaksin's five years in power.
"Even if someone paid me I wouldn't go to an anti-Thaksin demonstration," said Suwat Laocharuen, the village chief of Baan Nonsawan. "We just love him."
Both Thaksin and his opponents expect his party to win the most seats in next month's election. But in a sign of the deepening split between Bangkok and the provinces, the opposition, which draws much of its support from Bangkok and parts of the south, has decided to boycott the poll.
Thaksin's critics have accused him of corruption and abuse of power, charging that he has stripped key institutions of their independence -- the courts, the press, the anti-corruption authorities -- and that he uses his office to further his business interests.
But the argument that Thaksin must therefore resign does not wash with Suwat, the village chief.
"It's not fair that a leader gets two-thirds of the vote and then is brought down by street demonstrations," he said.
In the election in February last year, Thaksin won 61 percent of the vote, a landslide by Thai standards.
He cemented the loyalty of rural Thais with a three-year moratorium on their debts and a government program that offered US$26,000 to every village, from which residents could borrow for small business ventures.
Partly as a result, rural incomes increased 29 percent in 2001, the first year Thaksin was in power, 23 percent the next year and by double digits each year since. Last year, the average rural income reached US$821, according to the Rural Development Information Center of the Interior Ministry.
Baan Suksomboon residents said they would be bitter if Thaksin is removed from power.
"Of course I will be angry," said Muthita Shinpromma, who works at a factory stitching Nike sweatpants for US$3.70 a day. "
Thaksin is helping people at the grassroots," she said.
Comments will be moderated. Keep comments relevant to the article. Remarks containing abusive and obscene language, personal attacks of any kind or promotion will be removed and the user banned. Final decision will be at the discretion of the Taipei Times.