Venezuela plans to expand program to provide cheap heating oil to US poor
Venezuela said on Friday it will expand a program to provide cheap home heating oil to poor US citizens, bringing savings to low-income families in Vermont and Rhode Island, as well as four Indian tribes in Maine.
Venezuela's Citgo Petroleum Corp. has already begun selling millions of liters of discounted fuel in Massachusetts and the Bronx in New York City as part of a plan by Venezuelan President Hugo Chavez to aid poor communities that he says are neglected by Washington.
Bernardo Alvarez, Venezuela's ambassador to the US, said he will sign an agreement on Thursday in Maine to start providing heating oil to four Indian tribes -- the Penobscot, Micmac, Passamaquoddy, and the Houlton Band of Maliseet Indians.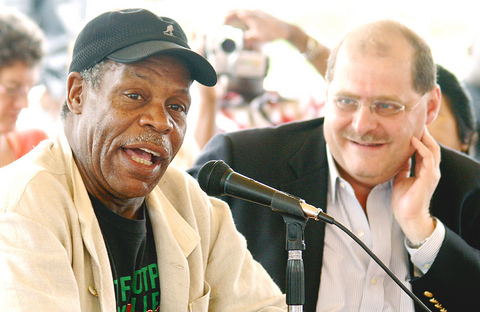 Actor Danny Glover, left, speaks as Venezuela's ambassador to the US, Bernardo Alvarez, looks on in Caracas on Friday, where they toured a state-funded cooperative.
PHOTO: AP
"The Penobscot Nation is very grateful," tribal chief James Sappier said by phone from the reservation near Bangor, Maine. "This is probably one of the greatest decisions for our tribe in years."
Many in the tribe of 2,261 people are facing tough times economically as jobs have moved out of the area, and the discounted fuel could save a family US$1,000 or more this winter, he said.
Sappier said heating oil prices have been hovering around US$2.40 in the area recently, and Venezuela estimates participants in will save US$0.15-US$0.20 cents per liter.
Alvarez said Venezuela also will extend the deal next week to Vermont and Rhode Island. Other communities in New York City -- Harlem, Queens and Brooklyn -- will soon begin benefiting, he said.
Chavez's opponents accuse him of using Venezuela's oil wealth to win friends while trying to embarrass US President George W. Bush, whom he calls a "madman." But Chavez's supporters defend the heating oil program an example of generosity by a president leading a socialist revolution for the poor.
Alvarez was accompanied by a group of US activists on a tour of a state-funded cooperative in Caracas where the poor receive free health care and hundreds work in textile and shoemaking shops.
The visitors included singer Harry Belafonte, actor Danny Glover, Princeton University scholar Cornel West and farm worker advocate Dolores Huerta.
"It was impressive for everyone to see that progress is being made," said Tavis Smiley, who joined the group and hosts a talk show on PBS television.
Belafonte, who has praised the heating oil program, said the group came to learn about the situation in Venezuela. He was sharply critical of the situation in the US, noting poverty and a huge prison population.
West, a professor of religion, spoke admiringly of Chavez's programs, saying they show "this revolution is real; it's not something that people are just talking about."
Meanwhile, Sappier said snow was falling in Maine, and his tribe was grateful for Chavez's help.
Comments will be moderated. Keep comments relevant to the article. Remarks containing abusive and obscene language, personal attacks of any kind or promotion will be removed and the user banned. Final decision will be at the discretion of the Taipei Times.