More cities avoid Songhua water
Five more Chinese cities prepared to stop drawing water from the benzene-laden Songhua River yesterday, as the country's top work safety official warned of long-term dangers from the toxin.
In Russia, residents stocked up on bottled water and an official warned that a lack of running water could threaten heat supplies in the dead of winter, as the spill of benzene into the river from a Nov. 13 chemical plant explosion slowly moved toward the border.
Beijing has sought to ease strains with Moscow, a key diplomatic partner and source of much-needed oil, promising to send filtering materials to help reduce the impact from the spill.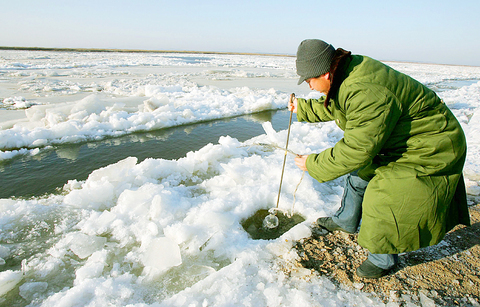 A worker from the Environment Protection Bureau collects water samples from the icy Songhua River at Dalianhe in northeast Heilongjiang Province yesterday.
PHOTO: AP
Li Yizhong, minister of China's State Administration of Work Safety, said measures taken so far to protect the millions living along the river were only a "partial victory," the local Communist Party newspaper Harbin Daily reported yesterday.
Li, visiting the city of Jiamusi, where the pollution is expected to arrive in the next few days, warned that the slick was getting longer as it flowed downstream through the iced-over Songhua, affecting an ever growing area.
There was no obvious drop in the concentration of pollutants, up to 21 times the allowable standard, the newspaper quoted Li and other officials as saying.
"Cities on the Songhua River need to stay at a high level of alert," Li said.
On Thursday, China's Foreign Ministry announced it was sending to Russia pollution monitoring devices and 150 tons of activated charcoal to help filter drinking water. Beijing also offered to send experts to help install it.
The disaster has prompted a massive relief effort at home by China's communist government, which is trying to repair its image after complaints that officials concealed the spill and lied to the public.
Officials have sent millions of bottles of drinking water and fleets of water trucks to communities on the Songhua that have cut off running water as the benzene passed. The biggest was the industrial center of Harbin, where 3.8 million people went without water last week.
Downstream, Dalianhe shut down running water to 26,000 residents on Wednesday.
The cities of Jiamusi, Tangyuan, Huachuan, Fujin and Tongjiang were preparing to stop drawing river water as the slick approached, according to provincial and local officials.
It wasn't immediately clear how many people would be affected or whether those communities could draw on wells or other sources to continue supplying running water.
On Thursday, residents of Dalianhe lined up with jugs and buckets to get drinking water delivered by fire trucks after the government shut down drinking water to its 26,000 people.
Comments will be moderated. Keep comments relevant to the article. Remarks containing abusive and obscene language, personal attacks of any kind or promotion will be removed and the user banned. Final decision will be at the discretion of the Taipei Times.