My detonator failed, says woman in TV confession
WOULD-BE BOMBER Millions watched as the wife of a man who died in last Wednesday's attack on a hotel explained how they prepared to blow themselves up
Wearing a disabled explosives belt and a white headscarf and wringing her hands as she spoke, an Iraqi woman calmly described how she tried and failed to join her husband in a suicide attack on a hotel wedding party.
Millions of viewers across Jordan and the region watched as Sajida Mubarak Atrous al-Rishawi gave her televised confession hours after she was arrested on Sunday -- an arrest that resulted in part from al-Qaeda's mistaken boast of her "martyrdom."
Al-Rishawi explained how her husband helped plan last Wednesday's attacks, fitted her suicide bomb belt and blew himself up with his own bomb at the Radisson SAS -- one of three hotels attacked by three Iraqi men.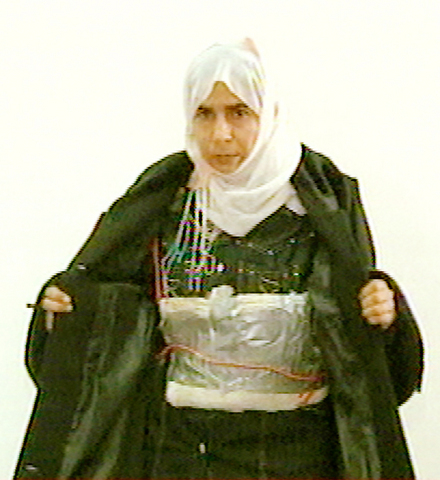 This TV image shows Iraqi Sajida Mubarak Atrous al-Rishawi opening her jacket and showing an explosives belt as she confesses on Jordanian state-run television on Sunday to her failed bid to set off an explosion inside one of the three Amman hotels targeted on Wednesday.
PHOTO: AP
"My husband detonated [his bomb] and I tried to explode [mine,] but it wouldn't," the 35-year-old al-Rishawi said.
"People fled running and I left running with them," she said during the three-minute segment, which showed her handling several pieces of the faulty trigger equipment that failed to set off about 10kg of RDX explosives and hundreds of ball-bearings.
The attackers killed 57 other people at the Radisson SAS, Grand Hyatt and Days Inn hotels.
Al-Rishawi's brother was once a deputy of Abu Musab al-Zarqawi, the Jordanian leader of al-Qaeda in Iraq, Deputy Premier Marwan Muasher said. He said the brother, Mubarak Atrous al-Rishawi, was killed in the former terrorist stronghold of Fallujah, Iraq.
Officials believe al-Rishawi, who entered Jordan from Iraq on Nov. 5, may provide significant information about the operations of al-Zarqawi's group, which claimed responsibility for the hotel bombings, Jordan's deadliest terrorist attacks. The group said the attacks were retaliation for Jordanian support for the US and other Western powers.
Al-Rishawi was shown on state television wearing a buttoned, body-length dark denim dress. Muasher told CNN the belts she also wore on the broadcast were captured with her.
Al-Rishawi said she and her husband, Ali Hussein Ali al-Shamari, 35, were wearing explosive-laden belts when they strolled into the Radisson ballroom where hundreds of guests, including children, were attending a Jordanian-Palestinian wedding reception.
"My husband wore a belt and put one on me. He taught me how to use it, how to pull the [primer cord] and operate it," she said.
Muasher said al-Rishawi's husband noticed her struggle when the belt failed and pushed her out of the ballroom in order not to attract attention before blowing himself up.
After a second showing of the tape, a TV announcer cited security officials as saying the woman gave no further details because "she was still suffering from the shock of the blasts and her subsequent arrest."
Al-Rishawi was arrested at a "safe house" in the same Amman suburb where her husband and the other two bombers rented a furnished apartment, a top Jordanian security official said.
Jordanian security was tipped off to her presence by al-Qaeda in Iraq's claim of a female bomber, the official added, speaking on condition of anonymity because he was not authorized to speak to journalists.
The group apparently assumed she was killed in the blasts.
"There were leads that more people had been involved, but it was not clear that it was a woman and we had no idea on her nationality," the official said.
Al-Rishawi, who is from the volatile Anbar province town of Ramadi, west of Baghdad, said on state TV that she entered Jordan from Iraq four days before the attacks with her husband and two other men using fake passports. She said they rode across the border in a white car with a driver and another passenger.
Jordan officials confirmed the three bombers were Iraqis. Al-Rishawi did not name the other two, but Jordanian authorities identified them as Rawad Jassem Mohammed Abed and Safaa Mohammed Ali, both 23.
Muasher said investigations showed no Jordanians were involved, but several local followers of al-Zarqawi have been arrested.
King Abdullah II told NBC television's Meet the Press that "all Jordanians are unified, in that they want the people who are responsible for these crimes to be brought to justice."
"If we know where they are, even if it's beyond the borders of Jordan, we will give it the best shot possible to bring these people to justice," he said.
Jordanian counterterrorism officials believe al-Rishawi could provide significant leads into al-Zarqawi's whereabouts and his terrorist operations in Iraq.
But the officials, insisting on anonymity because of the sensitivity of their positions, also fear her capture may spur al-Zarqawi to avenge the arrest with more attacks in Jordan or against Jordanian interests abroad.
Comments will be moderated. Keep comments relevant to the article. Remarks containing abusive and obscene language, personal attacks of any kind or promotion will be removed and the user banned. Final decision will be at the discretion of the Taipei Times.