Indonesians protest fuel-price increase
BATTLE OF WILLS Past presidents have been damaged by attempts to reduce fuel subsidies, but many people also know that the current price levels are unrealistic
Thousands of students, truck drivers and laborers rallied across Indonesia yesterday against impending fuel price hikes, with some blocking roads with burning tires and throwing stones outside a house belonging to the vice president.
In one incident, police fired warning shots and beat protesters with batons after a rowdy crowd tried to storm a gas station, witnesses said.
The government's decision to cut fuel subsidies that have helped protect Indonesia's poorest from spiraling global prices could result in a 60 percent rise in the price of gasoline, diesel fuel and kerosene when it takes effect tomorrow, ministers say.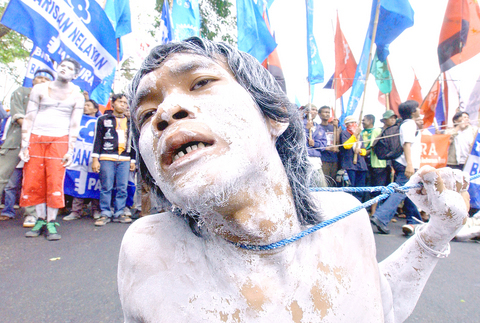 A protester mimics a scene of poverty while others shout anti-government slogans during a demonstration near the Presidential Palace in Jakarta yesterday. Hundreds of people took to the streets of the Indonesian capital to express their anger at the government's decision to increase fuel prices. The country is set to raise fuel prices tomorrow in an unpopular move that has drawn threats of mass protests, but which the government says will free billions of dollars to fight a budget crisis.
PHOTO: AFP
Though the move will help ease pressure on the cash-strapped government's budget, it is also expected to push up the price of everything from rice to bus fares to cigarettes in the sprawling country of 220 million people, half of whom live on less than US$2 a day.
President Susilo Bambang Yudhoyono, elected last year on promises to fight poverty and revive Southeast Asia's largest economy, has quickly become one of Indonesia's most popular leaders. But his decision to raise fuel prices on the heels of a 29 percent hike in March is shaping into his first major political test.
"He doesn't know how to manage this country," said Ibnu Hajar, one of the student protesters. "Raising fuel prices isn't going to improve the economy, it's just going to hurt the poor."
Protests were held in Jakarta and at least nine other cities, but despite scattered reports of violence most appeared peaceful and relatively small considering the country's size and its history of massive street rallies.
In Jakarta, close to 2,000 people wound through the streets to the presidential palace with banners that said, "Don't add to the people's suffering!" and "Reject the fuel hikes!"
More than 1,000 people also turned out in Makassar on Sulawesi island, where protesters marched on the residence of Vice President Yusuf Kalla, some throwing bricks at police officers who blocked their path. In neighboring Palu, police fired into the air after rock-throwing demonstrators tried to take over a gas station.
Demonstrators also burned tires and blocked roads on Borneo island, witnesses said.
Despite the unrest, Yudhoyono enjoys wide support and most people realize that the present cost of gasoline -- US$0.25 per liter -- can not be maintained.
Nearly one-third of the government's budget goes to fuel subsidies even as other sectors like health and education are sorely underfunded.
"It is a difficult decision because of the impact it will have on the common man," said Kurt Barrow from energy consultants Purvin & Gertz Inc. "But long-term it is something that Indonesia needs to do to balance its budget."
Yudhoyono urged demonstrators to refrain from violence as Jakarta's governor and its police chief warned that protesters might try to commandeer oil trucks, seize control of gas stations, and destroy or burn property.
"Please comply with the laws and regulations," he said.
Comments will be moderated. Keep comments relevant to the article. Remarks containing abusive and obscene language, personal attacks of any kind or promotion will be removed and the user banned. Final decision will be at the discretion of the Taipei Times.