Indonesia confirms bird flu death
DON'T PANIC, YET The country confirmed its fourth human death from H5N1, Asia's 63rd, as a WHO official warned yet again on the threat of a deadly pandemic
Indonesia yesterday confirmed its fourth human death from the bird flu virus, taking the death toll in Asia to 63, and said it was investigating whether a neighbor of the victim was also sickened by the disease.
Tests from a Hong Kong laboratory showed that a 37-year-old woman who died last week had contracted the H5N1 bird flu virus, said I Nyoman Kandun, the health ministry's director general for illness control and environmental health.
The health ministry also said that a neighbor of the woman had been hospitalized with symptoms consistent with bird flu. But authorities said they were still awaiting lab results before confirming she had been sickened by the virus.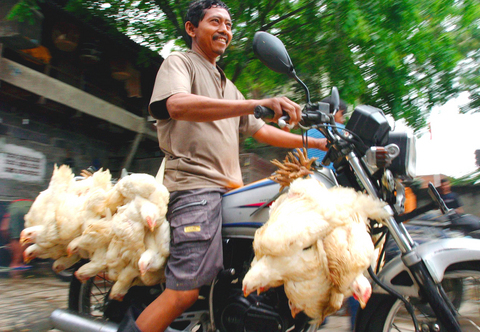 An Indonesian man carries chickens on his motorbike at a farm in Jakarta yesterday. Indonesian health authorities announced yesterday its fourth human death from bird flu after tests confirmed that the woman who died late last week was infected by the deadly virus.
PHOTO: EPA
Kandun warned that Indonesia would continue to report cases because the virus was rife in poultry farms across the country.
"It will be like in Vietnam and Thailand," he told reporters.
The virus has swept through poultry populations in large swathes of Asia since 2003, resulting in the deaths of tens of millions of birds -- and 63 people, most of them in Vietnam and Thailand.
Indonesia recorded its first human fatalities from bird flu in July when a father and his two daughters died after contracting the virus. Officials have linked those deaths to droppings from an infected bird.
Kandun said the source of the latest infection was not yet known.
He said surveillance of poultry needed to be stepped up, but urged the country's 210 million people not to panic.
"Be alert, but do not be alarmed," he said.
Officials have carried out limited vaccinations of some of the estimated 2 billion birds in the country, but say they lack funds to carry out culls of flocks in areas where the virus is prevalent.
The virus has been recorded in 22 of Indonesia's 32 provinces since 2003.
Most of the human deaths from bird flu have been linked to contact with sick birds. But the World Health Organization has warned that the virus could mutate into a form which is more easily transmitted from human to human, possibly triggering a pandemic that could kill millions worldwide.
Indonesia confirmed its fourth human death from bird flu on Friday and said another person was suspected of having the virus as global alarm grew that the disease would mutate and become a pandemic.
Speaking in New York on Thursday, World Health Organization chief Lee Jong-wook said the virus was moving toward becoming transmissible by humans and that the international community had no time to waste to prevent a pandemic.
The highly pathogenic H5N1 strain of the virus has killed 64 people in four Asian countries since late 2003 and also spread to Russia and Europe.
Indonesian health officials said tests had shown bird flu killed a woman who died last week in a Jakarta hospital after she was admitted suffering from pneumonia and flu-like respiratory problems.
"It's positive for H5N1," I Nyoman Kandun, director-general of disease control at the Health Ministry, told reporters.
Comments will be moderated. Keep comments relevant to the article. Remarks containing abusive and obscene language, personal attacks of any kind or promotion will be removed and the user banned. Final decision will be at the discretion of the Taipei Times.