`Pre-Thracian' treasure outranks Troy
A 4,200-year-old golden hoard, comparable to the fabulous treasures of Troy, has been discovered in Bulgaria to the delight of archaeologists desperate to outdo looters in the former communist country.
The miniature pieces were unearthed in an ancient tomb in Dabene, 120km east of Sofia. The objects, including 15,000 ornate golden rings, may have been made by a race predating the ancient Thracians.
Scholars have described the objects as the oldest ever found in Bulgaria.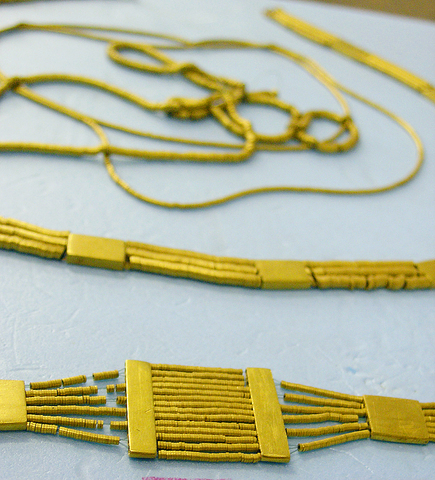 A part of a golden treasure, unearthed since last summer in an ancient tomb near the central village of Dabene, Bulgaria is shown in the National Historical Museum.
PHOTO: AP
"This treasure is a bit older than Schliemann's finds in Troy and contains many more golden ornaments," said Vasil Nikolov, director of the Bulgarian Archaeological Institute, who oversaw the excavations.
He said that the finds had been gradually unearthed from the burial place over the course of the past year.
Bulgarian archaeologists said the discovery matched the magnificent treasure trove of jewels, bracelets, golden diadems, rings, and cups unearthed at Troy in 1873 by the retired German merchant Heinrich Schliemann. Known as the "jewels of Helen," Schliemann had his Greek wife, Sophia, photographed wearing them before smuggling the artefacts to Berlin.
The gold has since been on display in Moscow's Pushkin Museum -- much to the consternation of Turkey, which wants it back.
With tomb raiders also making their presence felt in Bulgaria, local archaeologists are battling to reach the country's ancient burial sites first. Experts estimate there are some 15,000 tombs dotted across the Balkan state.
But despite the excitement of the new treasure, archaeologists are uncertain as to which civilization produced it. Nikolov said that it was most likely that it was the work of "proto-Thracians" living in what is now Bulgaria, Greece, Romania, Macedonia and Turkey.
Put down as illiterate "barbarians" by the ancient Greeks, the Thracians remain one of Europe's most mysterious civilizations.
Comments will be moderated. Keep comments relevant to the article. Remarks containing abusive and obscene language, personal attacks of any kind or promotion will be removed and the user banned. Final decision will be at the discretion of the Taipei Times.