Nepal rebels vow to keep up resistance
CONFLICT The Maoist rebels lifted the blockade but are now threatening a military campaign and a`mass movement of the people' against the king
Nepalese travelers hit the roads yesterday while food and other essential supplies began flowing freely into cities after communist rebels lifted a crippling two-week countrywide highway blockade to protest the king's power grab.
The rebels said Saturday that their decision was aimed at easing the discomfort of the common people. However, they threatened to step up their military campaign against the army.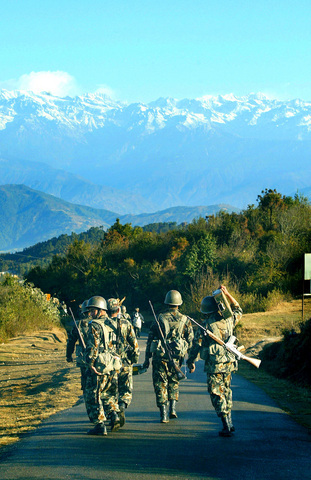 Nepalese army soldiers proceed to target practice at an army base near the tourist resort town of Nagarkot, southwest of capital Kathmandu, Nepal on Wednesday. Nepal's soldiers, known for decades for keeping peace around the world, are learning to wage war at home now.
PHOTO: AP
Fighting since 1996 to topple the monarchy and install communist rule, the insurgents blocked the country' highways using crude bombs, mines and boulders, disrupting basic supplies across the Himalayan kingdom and choking off major cities.
Yesterday, buses and cars that had been parked in garages for days ventured out onto the roads snaking through the mountainous country.
"We have had several telephone calls this morning from people who wanted to make reservations. Finally, it's business as usual," said Ram Shrestha, a ticket clerk at the local bus station in the capital, Kathmandu.
During the rebel blockade, vehicles piled up on the highways, waiting for security forces to clear explosives and escort civilian convoys to their destinations without being targeted by the insurgents. Prices of food and other essential items shot up across Nepal.
"We are lifting the indefinite blockade of transportation to show our deep responsibility toward the people," rebel chief Pushpa Kamal Dahal, also known as Prachanda, said in a statement late Saturday.
"We are going to start a new phase of movement increasing military resistance and mass movement of people," Dahal said without elaborating.
A Nepalese army spokesman declined comment.
The terror on the highways spiraled after indiscriminate firing by suspected rebels killed an Indian truck driver and wounded seven Nepalese last week.
Since then, airlines have been overwhelmed with bookings, even though only a tiny percentage of people in this impoverished country can afford air travel.
The insurgents said they were protesting King Gyanendra's decision on Feb. 1 to sack the government, impose emergency rule, and suspend civil liberties.
The monarch, who says he was forced to act because of the insurgency, has ignored repeated calls from the international community that he restore democracy.
Nepal's key allies, India and Britain, have suspended military aid and the US says it also is considering similar action. Several countries have withdrawn their ambassadors from Nepal and stopped aid.
Comments will be moderated. Keep comments relevant to the article. Remarks containing abusive and obscene language, personal attacks of any kind or promotion will be removed and the user banned. Final decision will be at the discretion of the Taipei Times.