US says world must stop Iranian nuclear arms program
TOUGH TALK The Bush administration's national security advisor said the US would consider all available `tools' to prevent Iran from building nuclear weapons
President George W. Bush's national security adviser said Sunday that the US and its allies "cannot allow the Iranians to develop a nuclear weapon" and warned that Bush would "look at all the tools that are available to him" to stop Iran's program. \nCondoleezza Rice said on the NBC News program Meet the Press that she expected that the International Atomic Energy Agency would make what she called "a very strong statement" next month forcing Iran to choose between isolation or the abandonment of its nuclear weapons efforts. But she stopped short of saying whether the US could muster its allies to impose sanctions against Iran in the UN Security Council. \nUntil now, European powers and Russia have resisted US efforts to impose sanctions against Iran, which they see as a major trading partner. \nIran has insisted that its nuclear effort is entirely for the production of electric power, though the International Atomic Energy Agency, the UN nuclear monitoring agency, has found evidence of covert efforts, stretching back more than 18 years, to produce highly enriched uranium suitable primarily for weapons production. \nA week ago, Iran's foreign minister, Kamal Kharrazi, said his country would resume producing parts for centrifuges, the equipment needed to enrich uranium, because European nations had not brought the Atomic Energy Agency's investigations to a close. \nBush, who took a brief break from his re-election campaign to attend a family wedding here and visit his parents, said nothing in public on Sunday. \nHe attended an early church service, went fishing with members of his family and flew back to Washington, letting his aides take the questions about Iraq, terrorism, Iran and North Korea. \nRice was responding to an article in the New York Times on Sunday that said the Bush administration's diplomatic efforts during the past 20 months to stop nuclear weapons programs in Iran and North Korea had so far failed. \nIn a veiled reference to the Clinton administration, Rice said "these are problems that developed in 1990s." She contended that there had been "diplomatic successes" in organizing North Korea's neighbors to confront the problem and spurring action against Iran at the Vienna-based Atomic Energy Agency. \n"It was, in fact, the president who really put this on the agenda in his State of the Union address, the famous `axis of evil' address," Rice said. "And our allies have really begun to respond." \nShe declined to say whether the US would support action by Israel, which says Iran's program poses a particular threat to its national security, to attack Iran's facilities the way it attacked the Osirak reactor in Iraq in 1981. \n"I don't want to get into hypotheticals on this," Rice said. \nShe noted that Russia has declared that it would provide help to Iran only if it returned its nuclear fuel to Russia so it could not be diverted for weapons. "I think you cannot allow the Iranians to develop a nuclear weapon," she said. \nRice's answer about Israel was particularly notable because, in the period before the war in Iraq, she and other senior administration officials said history had vindicated the Israeli raid on Osirak. Had that attack not crippled Iraq's main nuclear reactor, they argued, Saddam Hussein may have had access to nuclear weapons before the Persian Gulf War in 1991. \nBut it is unclear that Israel has the military capability to reach Iran's nuclear facilities, which are much farther away and well hidden among cities.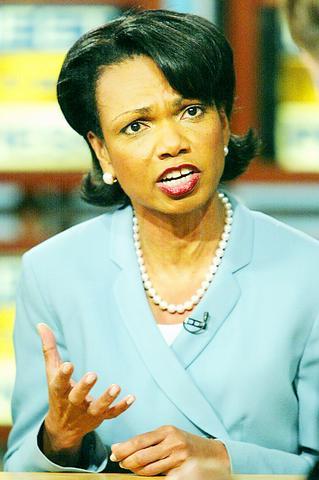 US National Security Adviser Condoleezza Rice speaks on NBC TV on Sunday.
PHOTO: AP
Comments will be moderated. Keep comments relevant to the article. Remarks containing abusive and obscene language, personal attacks of any kind or promotion will be removed and the user banned. Final decision will be at the discretion of the Taipei Times.