Israeli alliance remains elusive
LOGGERHEADS The ruling and opposition parties are opposed on economic issues, in a deadlock that could nix Sharon's planned withdrawal from the Gaza Strip
The Israeli prime minister and opposition leader failed to resolve a key dispute in coalition talks, and an alliance between them, seen as a prerequisite for an Israeli withdrawal from Gaza, remained out of reach yesterday. \nPrime Minister Ariel Sharon and opposition leader Shimon Peres, long-time rivals but also occasional political partners, met late Sunday to try to work out disagreements over next year's proposed state budget. No deal was reached, but Peres' Labor Party agreed to attend another round of coalition talks. \nSharon needs the moderate Labor for his planned withdrawal from the Gaza Strip and four West Bank settlements by the end of next year. Earlier this summer, he lost his majority in parliament, with some coalition allies quitting over the Gaza plan. \nSharon and Peres have reached preliminary agreement on the terms of the Gaza pullback, but remain stuck on economic issues. One Labor Party member described the government's economic policies as "piggish capitalism." \nIn the Sharon-Peres meeting late Sunday, a key issue was the timing of the Cabinet's vote on the budget. Labor has asked that the vote be postponed until it has joined the coalition. \nHowever, Peres said Sharon told him he could not put off the vote, scheduled for Sunday. Instead, the prime minister suggested they rush to form a coalition by that date, something the Labor leader said he doesn't rule out. \nStill, it appears unlikely the two sides will resolve all differences and meet the procedural requirements, such as a parliament vote, in such a short period. \nPeres said his party wants big-ger budget allocations for pensioners and regional councils, which suffer from severe deficits and have not been able to pay their employees for months. \nPublic radio reported yesterday that Israeli Prime Minister Ariel Sharon has blocked plans drawn up by the housing ministry to build 1,300 new homes in four of the largest West Bank settlements. \nThe ministry had asked Sharon to give the final green light after completing preparatory ground work for the construction and obtaining the necessary authorization from the defense ministry. \nThe houses would have been built in Maale Adumin, Ariel, Kiryat Arba and Beitar Elite. \nAccording to the Haaretz daily, the freeze is only temporary and is designed to ensure that all building work is within the municipal boundaries of the settlements and does not breach agreements between the US and Israel. \nUnder the terms of the US-backed roadmap peace plan, Israel is obliged to freeze all settlement activity although Israeli officials have argued that this does not rule out natural growth in existing settlements. \nThe US State Department told Israel last week that "the roadmap calls for an end to all settlement activities, including natural growth", a point taken up by visiting White House envoy Elliott Abrams in talks with Sharon last Thursday. \nIn the Gaza Strip, an Israeli helicopter fired three missiles Sunday near the Gaza-Egypt border in what the army said was an attempt to deter "hostile activity" in the area. The strike caused no casualties. \nAlso Sunday, the Palestinian daily Al Quds quoted Palestinian President Yasser Arafat as saying continued Israeli restrictions on Palestinian movement make it impossible to hold presidential and parliamentary elections. \nHowever, Ali Jarbawi of the Palestinian elections commission said voter registration would begin early next month, despite the hardships. "If we do our job properly, it will increase pressure for elections," he said. Many feel the Palestinian leadership is using the Israeli presence as an excuse to delay voting. \nPalestinians had hoped to hold elections in January this year and then in June, but each time put them off, blaming Israeli restrictions.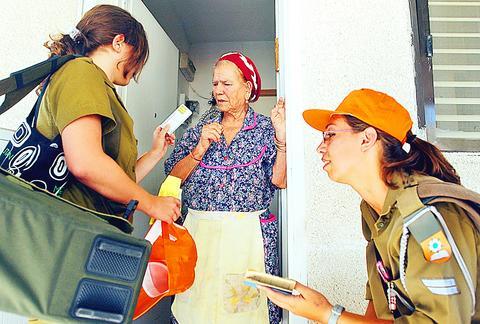 Israeli soldiers hand a box of radiation sickness pills to Rachel Malul, 80, in the town of Dimona in the Negev desert on Sunday. The Israeli army began distributing radiation sickness pills on Sunday in Dimona, where one of Israel's two nuclear reactors is located, and neighboring towns to protect residents from radioactive fallout from a missile attack on the nuclear station, or in case of a reactor accident.
PHOTO: AP
Comments will be moderated. Keep comments relevant to the article. Remarks containing abusive and obscene language, personal attacks of any kind or promotion will be removed and the user banned. Final decision will be at the discretion of the Taipei Times.