Bush ignores jobs news
DISAPPOINTING Jobs were expected to grow by a quarter of a million in July; actually they only grew by 32,000. Nevertheless, Dubya says the economy is dong well
US President George W. Bush said Friday the US economy is "getting stronger," brushing aside surprisingly anemic July job creation that Democratic White House contender John Kerry pounced upon as evidence of economic mismanagement. \nPressing his campaign for another four-year term, Bush sought to put a positive spin on the jobs report, saying it "shows our economy is continuing to move forward, and it reminds us that we're in a changing economy and we've got more to do. \n"Our economy's been through a lot," the president said in a campaign speech here. \n"I'm running because I understand how to take a strong economy to make it stronger. I say we have a strong economy, and it's getting stronger," Bush told cheering supporters in a field strewn with bales of hay. \nGovernment figures out Friday showed US employers hired only 32,000 extra workers in July, shocking analysts who had generally predicted a gain of 243,000 and shattering expectations of a rebound from sluggish job growth in June. \nEmployment in June, too, was weaker than previously reported, the Labor Department said, with net jobs up just 78,000, far lower than the modest 112,000 initially estimated. \nStunned investors sent the Dow Jones industrial average down 97.55 points, or 0.98 percent, to 9,865.48 at mid-day. \nOnly one bright note emerged from the labor market report: The unemployment rate, measured by a separate Labor Department survey of households, dipped to 5.5 percent in July from 5.6 percent in June, the lowest in nearly three years. \n"I'm not going to be satisfied until everybody who wants to work can find a job. I'm running because I understand how to take a strong economy and make it stronger," said Bush. "We're moving America forward and we're not turning back." \nBut Democratic rival Kerry said the report was evidence Bush was mismanaging the US economy, an issue that could prove to be one of Bush's vulnerabilities ahead of the November 2 election. \n"The president keeps saying we've turned the corner. But unfortunately today's job numbers further demonstrate that our economy may be taking a U-turn instead," Kerry said in a statement. \n"America will not turn the corner to better days until we have a new president who can see our problems and take action to fix them," he said. \nBush has long blamed the sputtering US economy on the burst of the Internet stock bubble, the September 11, 2001 terrorist attacks, a spate of corporate scandals, and the war in Iraq, insisting the trillion-dollar tax cuts he pushed through starting in 2001 were the right medicine. \n"We've overcome these obstacles because the entrepreneurial spirit is strong. And we've overcome these obstacles because of well-timed tax cuts," the president said. \nBush stopped in New Hampshire on his way to his parent's oceanside compound in Kennebunkport, Maine for a family wedding. \nThe incumbent carried this state by just 1.3 percent -- 7,211 votes -- in the contested 2000 election that pitted him against then-vice president Al Gore. \nBoth Bush and Kerry have been criss-crossing the country in search of votes, focusing on a handful of key battleground states -- even coming within a few city blocks of each other in Iowa on Wednesday.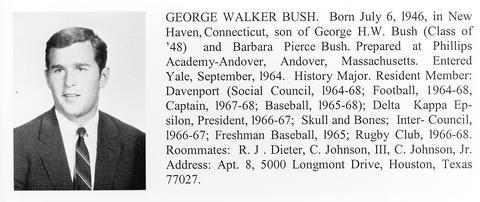 George W. Bush as seen in his 1966 graduating class picture in the Yale University yearbook. Bush, who followed his father and grandfather to Yale University despite a very poor academic record, said Friday, that colleges should get rid of ``legacy'' admission preferences that favor the sons and daughters of alumni.
AP FILE PHOTO
Comments will be moderated. Keep comments relevant to the article. Remarks containing abusive and obscene language, personal attacks of any kind or promotion will be removed and the user banned. Final decision will be at the discretion of the Taipei Times.