World News Quick Take
■ China
Castrating mother arrested
A mother has been arrested in central China for trying to castrate her four-year-old son to spite her bullying husband, a news report said yesterday. The woman, from Wuhan, Hubei province, used a pair of scissors to to try to hack off her son's testicles, leaving him seriously injured, the South China Morning Post reported. She later told police she had been ill-treated by her husband and wanted to make sure her husband's family line did not continue, the newspaper said.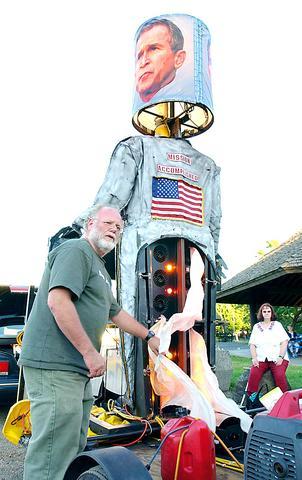 PHOTO: AP
■ New Zealand
Kiefer Sutherland bares it
Women watching a male revue show in New Zealand's central North Island town of Raetihi got a special thrill when Hollywood movie star Kiefer Sutherland decided to join the show, the New Zealand Herald reported yesterday. Sutherland was in the area while filming the movie River Queen, which is being shot in a scenic bush reserve near the town. He was drinking with some of the cast and crew in the Raetihi Cosmopolitan Club last Thursday while the revue was being staged in front of an all-woman audience in an adjoining room. Requesting Stairway to Heaven for his routine, Sutherland had to make do with the song You Can Leave Your Hat On.
■ South Korea
Koizumi arrives
Japanese Prime Minister Junichiro Koizumi arrived in South Korea yesterday for talks with South Korean President Roh Moo-hyun that are expected to focus on resolving a nuclear crisis with North Korea. Koizumi's two-day visit to the southern resort island of Cheju takes place amid signs the US is moving closer to the approaches of its two main Asian allies, Japan and South Korea, on how to break a lengthy impasse with North Korea. "Bearing in mind the six-way talks and my meeting with [North Korean leader] Kim Jong-il, I hope to discuss what measures are needed," Koizumi said in Tokyo before his departure. Koizumi met Kim for the second time in Pyongyang in May.
■ Japan
No confirmation of threats
Deputy Chief Cabinet Secretary Masaaki Yamazaki said yesterday the government of Japan would not confirm media reports that an Islamic militant group is threatening to attack Japan if the government does not withdraw its troops from Iraq. "There is various information, including the [report that has been] mentioned. However, we have not received any official message from them," Yamazaki said in Tokyo. The official reiterated that the Japanese government will not withdraw its troops from Iraq.
■ India
Gangster threatens rampage
A dreaded Indian gangster threatened to convert hundreds of villages into cremation grounds if changes were not made to a Bollywood film about his wife, it was reported yesterday. The film Wounded traces the journey of Seema Parihar from a 13-year-old to a notorious bandit in the Chambal ravines of the central Indian state of Madhya Pradesh. Parihar, 35, was charged with 29 counts of murder and kidnapping. She was given bail to play herself in the film. She was first married to Chambal gangster Nirbhay Gujjar, who still carries a bounty of 250,000 rupees (US$5,500). But in the film, her love interest is another gangster, Lalaram. "It was because of Seema that I picked up the gun. She was my love and I married her around 1987," Nirbhay said.
■ Czech Republic
Don't jaywalk -- or die
A Czech police officer took a police campaign to cut traffic accidents a little too far when he shot at a pedestrian who crossed a road on a red light. The policeman in the western city of Pilsen first fired a warning shot in
the air. But when the man refused to return to the pavement, the officer shot
at him twice but missed, the online edition of the Czech daily Pravo said. No one was injured. The police officer faces a criminal probe.
■ United Kingdom
Far-right activists arrested
Police investigating a documentary in which members of a right-wing political party allegedly confessed to race-hate crimes arrested five men
on Tuesday. All were later released on bail. The men are all from Bradford in northern England, where the BBC documentary on the British National Party was filmed. The men, aged 23 to 51,
were arrested for a range of offenses, including racially aggravated public order offenses, racially aggravated harassment, conspiracy to commit criminal damage and weapons offenses. A BBC reporter spent six months undercover with the party, which advocates deporting immigrants.
■ United States
Britney hits the courts
Pop princess Britney Spears is set to sue a US newspaper which published a picture that it said showed her swigging from a whisky bottle on a Los Angeles street. The picture showing Spears, 22, drinking from a miniature bottle appeared last week in the New York Post with the headline "Britney hits the bottle." The story kicked off intense speculation about Spears' drinking habits, but her attorney said the singer
was drinking ginseng, a
non-alcoholic herbal tonic. Spears' version of the story was backed by the liquor store where Spears did her shopping. The clerk said that she bought a bottle
of ginseng and a can of a
non-alcoholic energy drink.
■ Ghana
Englishman held over drugs
Police are holding an Englishman suspected of plotting to smuggle US$145 million in cocaine seized earlier this year, Ghanaian narcotics officials said on Tuesday. A senior officer of the Narcotics Control Board said Craig Pinnick, 53, was arrested in a west African country on July 9. He did
not name the country. In January, Ghanaian agents discovered 674kg of cocaine at the home of another Briton in Tema, a port near the capital Accra, following
a two-year investigation. European anti-drug officials say Latin American cartels are using west African countries more and more as routes to smuggle narcotics into Europe.
■ Italy
No change on whaling
Debate raged over a possible return to commercial whaling during an international whaling conference, but even preliminary steps toward lifting an 18-year ban on the business appeared unlikely. The International Whaling Commission on Tuesday discussed a proposal on standards to be applied
if there were a return
to commercial whaling.
The proposal, issued by commission chairman Henrik Fischer of Denmark, would include terms for a phased-in resumption, with measures to ensure whalers do not exceed quotas. Pro-whaling countries support the measure, hoping it would mark the beginning of the end of the ban. But some environmentalists oppose any proposal that loosens the moratorium.
■ United States
Fiery pants touring US
The co-founder of Ben & Jerry's Ice Cream company is on the road, towing a 4m-tall effigy of US President George W. Bush with fake flames shooting out of the pants. Ben Cohen says it's an acceptable way to point out Bush's lies. "In a polite society, you don't go up to a person and look at them in the face and say, `You're a liar,'" Cohen said. "We think it's a lot more dignified and there's a lot more decorum to say, `Excuse me, sir, your pants are getting a little warm, don't you think?'" The Bush figure wears a flight suit with the words "Mission Accomplished" emblazoned on the back, while an electronic ticker on the front displays what Cohen says are Bush's lies. Reaction to the effigy has been so positive that Cohen said he commissioned a second one.
■ United States
Pelican deaths unexplained
California's endangered brown pelicans are mysteriously starving to death during a bumper year for anchovies, their preferred diet, wildlife officials said. Hundreds of the ungainly sea birds appear to have flown off-course in search of food during their annual migration from Mexico's Baja California peninsula to British Columbia, with young pelicans turning up in Arizona deserts, biologists said.
■ United States
Rapper spurs kids to vote
Music and fashion mogul Sean "P. Diddy" Combs has made a fortune selling records and T-shirts but now he's found a new thing to market: voter turnout in the upcoming US presidential election. The creator of Bad Boy Entertainment on Tuesday launched Citizen Change, a campaign he hopes will influence minority and young voters. "Bush and Kerry are neck and neck," Combs said. "We will be the deciding factor." Combs will court his target audience, the nation's 42 million 18- to 30-year-olds and minorities, with a line of "Vote or Die" T-shirts, an album, TV ads and a voter registration push in cities and on campuses.
■ United States
States sue utilities on CO2
Several states including New York, California and Wisconsin as well as the city of New York were expected to file a lawsuit yesterday against five major US power companies, demanding cuts in carbon-dioxide emissions, according to people familiar with the matter. The companies expected to be named in the suit include top US power producer American Electric Power, according to a draft statement on the lawsuit.
■ United States
Jackson denies quads rumor
Pop star Michael Jackson, who is facing a trial on child molestation charges, on Tuesday denied a report that he was set to father quadruplets via a surrogate mother. Us Weekly magazine said that it was sticking to its story based on unnamed sources close to the star that Jackson, 45, recently spent time with the pregnant woman in a hotel suite in Miami, Florida.
Comments will be moderated. Keep comments relevant to the article. Remarks containing abusive and obscene language, personal attacks of any kind or promotion will be removed and the user banned. Final decision will be at the discretion of the Taipei Times.